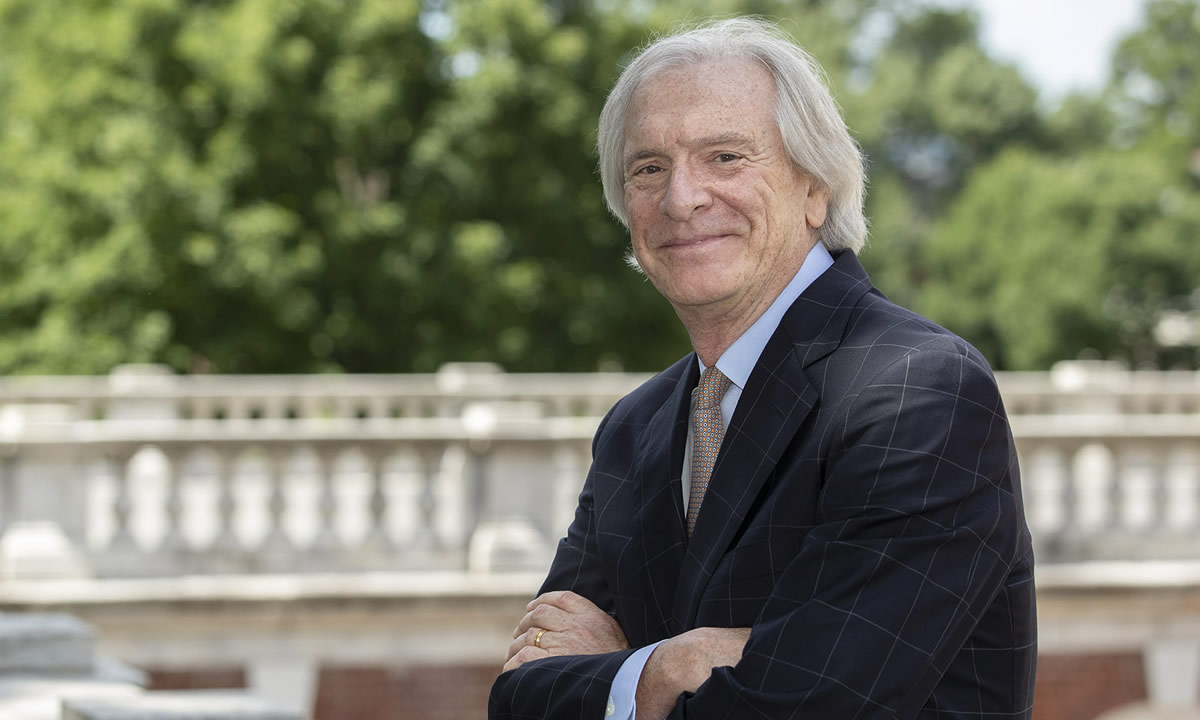 Transformative leader, visionary educator, and inspirational figure, Carl P. Zeithaml, the former McIntire School of Commerce John A. Griffin Dean, received the Thomas Jefferson Award for Service on June 4, 2021. The award is the highest honor the University bestows upon distinguished members of the UVA community.
Having joined the Commerce School as dean in 1997, Zeithaml, currently the F.S. Cornell Professor of Free Enterprise, will long be remembered for his vision in leading McIntire by developing its robust program portfolio, growing its esteemed reputation, and deepening its many impactful relationships across the world. Over the course of 23 years and five terms as dean, he was known for working tirelessly with faculty, staff, students, and alumni to achieve the Commerce School's position of global preeminence in business education.
"Carl served as a champion for McIntire's unmatched student experience and sense of community while promoting a balanced culture of teaching, research, and service," says Nicole Thorne Jenkins, John A. Griffin Dean of the McIntire School. "His unwavering enthusiasm for creating and refining an innovative and globally focused curriculum across programs—while also encouraging strong bonds between the School and its alumni and friends—remain unmistakable hallmarks of his deanship."
UVA President Jim Ryan says Zeithaml "transformed the School and changed business education for the better," adding that his "leadership and contributions to the University will leave a lasting legacy on generations of students and scholars."
Professor Ryan Nelson, Zeithaml's longtime colleague, stressed the former dean's guidance in advancing the University's mission of an open exchange between students and faculty, while expanding that interchange into a deeply invested global network.
"Carl's determined efforts and well-formulated strategy led to a legacy of excellence that honors and befits Mr. Jefferson's convictions relating to the University and its mission, the McIntire School of Commerce, the Commonwealth, and our nation," says Nelson.
From the start of Zeithaml's tenure, the McIntire School was home to a prestigious undergraduate business program, the McIntire Business Institute certificate program, and two graduate degrees: the M.S. in Accounting and M.S. in MIS (now M.S. in the Management of IT). Zeithaml quickly made his mark, transforming the B.S. in Commerce Program as a co-creator of the intense and demanding third-year curriculum known as the Integrated Core Experience. Bringing an innovative, immersive, and team-taught approach unique in undergraduate business education, he ensured that Commerce students were prepared to not only enter the marketplace with rigorous analytic, strategic, and behavioral skills, but also with the experience of having solved complex, real-world business problems that they present to visiting corporate sponsors.
Under Zeithaml's leadership, the undergraduate program continued to earn a stellar reputation, frequently occupying the first or second spot in rankings by Bloomberg Businessweek and business education website Poets&Quants. As he sought to complement McIntire's existing portfolio, Zeithaml forged unprecedented partnerships across Grounds and around the world. At UVA, he worked closely with other schools to introduce two cross-curricular, pan-University minors in Entrepreneurship and Leadership—with a third in Real Estate set to launch in 2022.
Sensing a gap in the U.S. market for a one-year business master's degree, he oversaw the creation of the M.S. in Commerce Program, which has been widely recognized since its launch in 2008, including a #2 ranking for master's in management programs worldwide by The Economist in 2017. In 2016, Zeithaml orchestrated a complex partnership with Esade in Barcelona, Spain, and Lingnan (University) College at Sun Yat-sen University in Guangzhou, China, to introduce the ambitious pre-experience M.S. in Global Commerce Program: Graduates broaden their global perspective in myriad ways while earning two master's degrees and a certificate in International Business.
Ever driven to build bridges across Grounds, Zeithaml was instrumental in the establishment of the M.S. in Business Analytics in 2018, the first degree offered in partnership by the McIntire School and the Darden School of Business.
"As a measurable result of Carl's leadership and the community he has helped forge, the McIntire School and the University have advanced in national recognition and global prominence with innovative, world-class programs," Nelson says. "The significance of his altruism and student-centered accomplishments will surely be felt on Grounds far into the future."