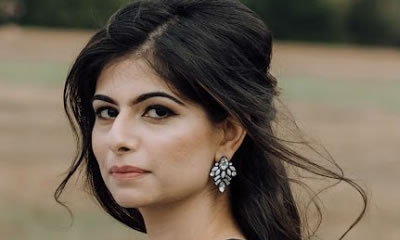 "When there is so much going on around the world, we have two choices: We can either turn away or make a difference," says Gurpreet Kaur. "Sometimes, though, turning away isn't because we don't care; sometimes it is because we, too, have felt that pain."
Having lost her grandfather to COVID in January of 2021 and learning about the virus outbreak in India, Kaur decided that she couldn't turn away any longer and decided to do what she could to help combat the health crisis. The Vancouver-based Strategic Account Executive with global payables automation solution Tipalti started an online fundraiser—"Help Conquer COVID Crisis in India"—with a goal of $5,000 CAD. But what happened next proved far more valuable to her.
"The support I received was shocking," she says, referencing what she considered a small, but "better than nothing" goal on her GoFundMe page that was quickly taken up with immense energy by her company.
Backed by Her Business
Serving on her company's Diversity Council, Kaur started a group called Aspire ("Asians and Pacific Islanders Reaching for Excellence"), and shared the news of her philanthropic effort in India with her committee. The council's founder, Cara Aley, relayed Kaur's story to the head of HR, who, in turn, told company leadership about the initiative.
"And in less than 48 hours, Chen Amit, the CEO of Tipalti, donated $5,000 on his behalf, while also donating $5,000 through Tipalti. In less than two days of starting the fundraiser, the word went around so quickly that I was able to raise $11,000," she says, explaining that previously she had never seen approvals move with that kind of speed resulting in real action. "I am truly humbled by the support of Tipalti and really believe other companies should follow the type of action they have taken."
Success continued. Having met and surpassed her initial goal, she established a second goal of $15,000 CAD, which she then reached less than a week later.
A Growing Goal
Kaur says that she has always wanted to give back, and the current health crisis has served as a motivator for her to take a crucial first step. She credits her team members for providing positive morale, giving her the added support necessary to advance her fundraising mission.
"My goals for the cause grew day by day because of the quick community involvement," she notes, explaining that the cold, hard truth of the matter at hand requires nothing less than high speed: There has a been a COVID-related death in India every five minutes due to a lack of oxygen cylinders and other critical medical supplies.
"Given these facts, the community really helped to make me realize that my goal was much bigger," she says.
As the crisis remains so widespread in India, Kaur has been strategic about her plans for distributing the funds she's collected in order to do the most good. It started with a currency exchange.
"With the $15,000 CAD raised, I converted Canadian dollars to Great Britain pounds and was able to purchase 30 oxygen concentrators (at a cost of roughly £300 GBP each)," she says.
Kaur knew that she didn't want to offer an open-ended monetary gift, but was intent on directly purchasing and providing medical supplies with the funds raised.
"The night I got the funds, I started doing a lot of research, looking into nonprofits that were providing resources to India. I came across KhalsaAid and got in contact with their UK headquarters to ensure that the oxygen concentrators would go to India."
The purchasing process was also a learning one. Kaur became well-versed in the type of concentrators on the market, how many liters they produce, the type of electrical supply generating their power, and more. Ultimately, after a weekend studying what was available, Kaur ordered 30 concentrators that are currently being delivered free to families in India, thanks to a partnership between KhalsaAid and Virgin Airlines.
As the fight against the coronavirus persists in India and beyond, so does Kaur and her fundraising target.
"I decided to push the goal to $20,000," Kaur says, focused on the enduring need for support in India. "My goal is to be able to buy five more concentrators by the end of June. I know I can achieve that with continued support from the community!"