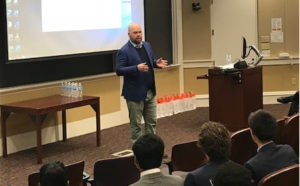 With many UVA students interested in pursuing a profession in the financial services industry, the McIntire Center for Investors and Financial Markets' annual Careers in Finance Conference is a popular event. The Conference, presented in cooperation with McIntire's Commerce Career Services, kicks off a yearlong educational series that includes professional panels, workshops, and treks to New York and San Francisco. Featuring experts from across the financial industry, the Careers in Finance Conference welcomes executives, young McIntire alumni professionals, faculty, and staff, who bring practical advice and industry insight to the student attendees at Rouss & Robertson Halls.
The goal of the Conference is simple: Utilize top industry professionals to educate young UVA students about the different career possibilities in finance.
"We've been running the Conference for over 10 years now. We started it recognizing that many students wanting to go into finance didn't understand the differences between investment banking and investment management, or private wealth management and private equity," says McIntire Finance Professor David C. Smith. "Now they get to learn about the distinctions from industry experts."
This year's edition took place Nov. 15 and 16, 2018, opening with an industry overview delivered by McIntire Finance Professor Peter Maillet. Remarks on making the most of careers in finance from Sarah Rogis, Associate Director for Career Development at McIntire's Commerce Career Services, and Cathryn Davis, Assistant Director of the Business Community at the UVA Career Center, closed the first day's schedule.
Finance Professor Mike Gallmeyer welcomed students back to the Conference on day two, when students attended presentations and question-and-answer sessions with leading professionals in the areas of sales and trading, asset and investment management, private equity, private wealth management, and both large-scale and independent advisory investment banking. The industry experts, many of whom are UVA alumni themselves, hailed from large institutions such as Bank of America Merrill Lynch, J.P. Morgan, and Citi, as well as high-end investment bank Guggenheim Securities and investment firms Alpine Investors and Centerbridge Partners. The Conference also featured a panel of young professionals offering fresh, relevant perspectives on their respective financial workplaces.
Supplemented by sessions that featured practical information on daily responsibilities, valued skills, and clarification about the many finance career paths, as well as opportunities to network with the guest speakers, students benefited from a thoroughly enlightening and engaging schedule to help prepare them for future positions in the field of finance.
Speakers at the event included Elizabeth Abrams, Senior Managing Director, Guggenheim Securities; Min Choung (McIntire '16), Analyst, Centerbridge Partners; Rylan Collier (McIntire '18), Analyst, Guggenheim Securities; Raj Das (McIntire '17), Analyst, Alpine Investors; Ross Goldstein (McIntire '01), Managing Director, Citi; James Hodge (Darden '17), Associate in Leveraged Finance, Bank of America Merrill Lynch; Jordan K. Jackson (A&S '15), Market Analyst, J.P. Morgan Asset Management; Kevin S. Mahony (McIntire '10), Principal, Centerbridge Partners; Reese Mullins (A&S '14, M.S. in Commerce '15), Assistant Vice President, Citi; Ryan T. Murphy (McIntire '16), Associate, Centerbridge Partners; Stephen Parker (McIntire '02), Managing Director, J.P. Morgan; Lizzie Weaver (McIntire '15), Associate, Bank of America Merrill Lynch; and Jacob Zodikoff (McIntire '17, A&S '17), Analyst, Alpine Investors.
McIntire thanks Alpine Investors, Bank of America Merrill Lynch, Centerbridge, Citi, Guggenheim Securities, and J.P. Morgan for their participation in the Careers in Finance Conference and for their continued support of the Commerce School.