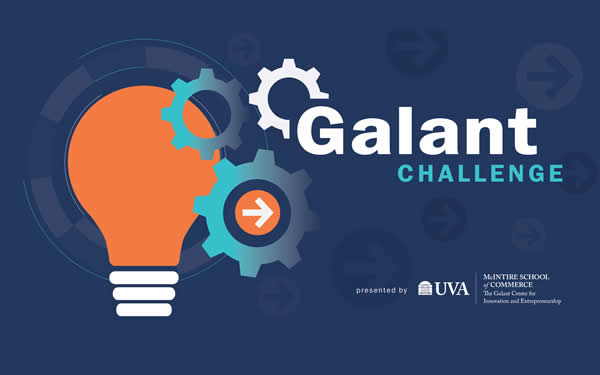 The 2021 edition of the Galant Challenge, a "Shark Tank"-style investment pitch event aimed at connecting startups with funding, brought together a group of inventive entrepreneurs and impressive judges, yielding a total upwards of $1.8 million in potential capital by interested investors.
Hosted virtually Thursday, April 29, by McIntire's Galant Center for Innovation and Entrepreneurship, the Center's Director, Professor Eric Martin, welcomed a panel of judges featuring Center benefactor Mark Galant (McIntire '80), Broadway Angels and Project Glimmer Founder Sonja Hoel Perkins (McIntire '88), Jim Cheng (Darden '87) of Cav Angels, and Darden School of Business's Damon DeVito (Darden '94).
The results of this year's Challenge provided all finalists with pledges of support from the judges (subject to due diligence and final negotiation):
Rett Crocker's AI-driven private equity data finder udu ($225,000)
Meg Pryde's (McIntire '12, Darden '18) low-cost beauty product finder Brandefy ($175,000)
Whit Hunter's (A&S' 13) fundraising platform BetterWorld ($250,000)
William Kodama's (Engineering '21) sport performance-focused wearable tech system Brave ($70,000)
Amrita Saigal's sustainable, subscription-based diaper service Kudos ($425,000)
Galant Challenge partner Cav Angels, along with an East Coast-based venture capital firm invited to participate, have indicated an interest in funding an additional $700,000 to $900,000 to the teams.
While the Galant Challenge was originally created to serve the greater UVA community, it has already hosted other schools from the Commonwealth and beyond. Saigal, the Challenge's first finalist from Harvard Business School, represents an intention to extend the event to entrepreneurs from top schools across the country, and to continue growing what has become a successful avenue to demonstrate the ideas of innovative founders while providing them with financial backing and other invaluable resources.