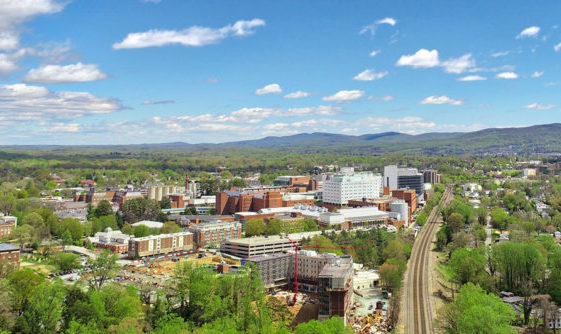 Deciding where to live and who to live with can be a daunting task. At McIntire, networking and building bonds with your classmates are important. After graduate school, you may move to the same city or work for the same company as your classmates. Why not get a jumpstart on building relationships with your peers by living together in graduate school?
Most students in both the M.S. in Accounting (MSA) and M.S. in Commerce (MSC) Programs found their roommates through the MSA and MSC Housing Facebook group that the Graduate Marketing & Recruiting team creates for admitted students. Some MSC and MSA students even live together. Leverage the Facebook group to simplify your roommate search and live with someone who is also pursuing their graduate degree.
This past year, a majority of students lived in The Standard, The Flats at West Village (called "The Flats" by students), and Lark on Main. These three apartment buildings are located on the same block and are approximately an 11-minute walk from McIntire.
Graduate students chose many other options for housing as well. Other popular choices included GrandMarc At The Corner, University Apartments, University Gardens, and leasing houses near UVA.
Also, as a graduate student, you are eligible to live on The Range, housing that is similar to the rooms that encapsulate the Lawn. UVA tracks occupants of these historic rooms all the way to the 1860s. Your name will be added to the running list of past residents if you choose to live there, which is pretty cool!
For the first few days of the MSA Program, I was in a room full of people I did not know at first. Upon talking to my classmates, I realized we lived in the same general area. Being so close to my classmates made it much easier to get to know my class and hang out with them. We would hang out at pools at The Standard and The Flats, eat a late-night pizza at Benny Deluca's, and go to Carter Mountain together.
Housing can be a stressful process, and while it is daunting, it is also much easier than you may think. By searching on the Facebook group and living in the same general area, you'll have a great start to your time in Charlottesville. I put together a map that shows where graduate apartments are located and a bar graph that shows the distribution of where graduate students from the Class of 2020 chose to live.