By Emilie Bidgoli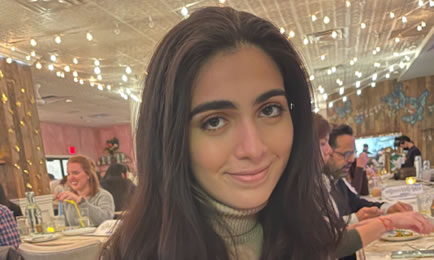 Hi! I'm Emilie, a third-year in the Comm School. Recently, a few of my friends have made jokes about how it makes sense that I'm in Comm and going into a career in finance. I'm highly analytical, involved with different business clubs on Grounds, and like a challenge.
My journey to Comm was far less typical than what it may seem like on the surface. I grew up in Northern Virginia, shocking I know, and initially applied and committed to UVA because it just seemed like the natural progression with my friends. When I came to Grounds, I had to make my first big decision on courses and what major I wanted to pursue. I always held value in the importance of being involved in my community and originally planned to pursue Political Theory, with a plan to attend law school. As I took a few challenging courses for this track, like Contemporary Political Thought, I realized I enjoyed my Principles of Economics (ECON 2010 and 2020) classes significantly more.
A friend recommended I follow the "pre-Comm" track, which I continued to brush off until I was finally convinced to meet with an adviser. Again, my perception of myself wasn't someone who could enjoy pursuing business, and I didn't even think I would fit in. No one in my family had ever worked in the business world, and I was critical of my belonging in a space that seemed so abstract. I would always hear rumors, especially my first year, about the Comm School having a tedious admissions process and competitive working environment. Luckily for me, the same friend who had pushed me to meet with an adviser ended up essentially debunking all those myths.
The single most important thing about any path to McIntire is that you make it YOUR path. Truly, I enjoy being in the Comm School, having these opportunities, and meeting the people here, but I wouldn't change anything about my two years in the College, because those experiences are just as valuable. Whether it's taking courses you really are interested in, being involved with organizations you care about, or pursuing another major/minor in addition to applying to Comm, your path to McIntire should be something you do for you. I believe the journey really is what makes it great. Through this journey, I found out what I truly enjoyed and found myself a student I never imagined myself being.
For me, the funniest part is, when people say it makes sense that I'm in Comm, I don't believe it. I still see myself as a bit of an outsider because of my reluctance to apply and my relative inexperience with finance. On the surface, it's easy to judge someone as making sense or not fitting into Comm, whether it's based on their background, involvement in Greek life or Comm-related clubs, or just general personality. What I think is most beneficial to keep in mind is that your path will be what you have created, not for any admissions committee.