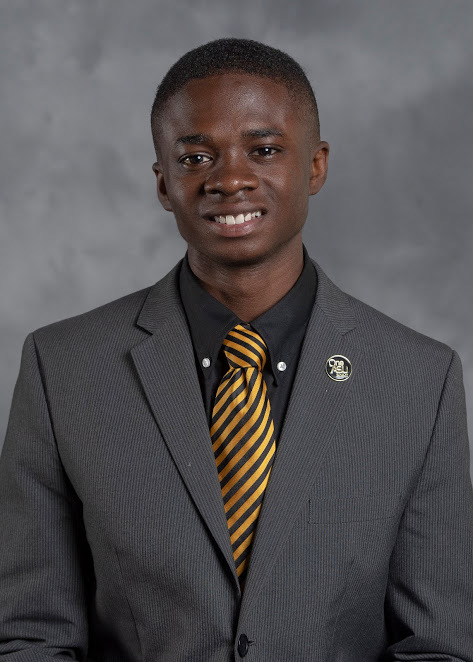 Devin Smith
M.S. in Accounting 2020, Financial Reporting & Assurance Track
Undergrad: B.S. in Accounting 2019, Alabama State University
What are your favorite courses that you have taken in the M.S. in Accounting Program?
Two of my favorite courses are "Introduction to Cybersecurity" and "Managing Sustainable Development." I chose them specifically because they were not accounting focused. I had the opportunity to discuss issues and topics that were not just business-related, but also global issues that were either already occurring or would occur soon. These classes also broadened the scope of what I could do with my degree in accounting and will allow me to use the variety of skills that I acquired in other industries or career paths.
In what areas do you see the greatest professional development among you and your classmates?
One of the most significant areas where I see my classmates and myself developing the most is in our written and verbal communication skills. Throughout the Program, we have been able to enhance our written communication skills through memos. We were challenged to adjust the content and approach depending on the audience. For example, at times, an individual may not have an accounting background. In these scenarios, we had to adjust the information in order to present what was deemed most relevant to the end user. This could include not using specific accounting terms that, at first read, the recipient may not be well-versed in. Another scenario was to draft a memo to a fellow accountant and request to be presented with a more detailed deliverable.
We also had the opportunity to give group and individual presentations in which we had to communicate very detailed information in the most concise and engaging way possible. I believe my classmates found these assignments useful because no matter where we are in our careers, knowing how to deliver and present information while taking into consideration who the audience is and how we are communicating with them is very important.
Why are effective public speaking, business writing, and communication such critical parts of the Program?
In the field of business, communication in all forms is crucial, and we are only as good as how we explain complex information, in many cases. As business majors, we place a lot of emphasis on technical expertise and sometimes forget that what often can make or break our performance evaluations or promotions are the soft skills. These areas are crucial in the business world, because we can never push to the side how efficiently we exchange information, either among colleagues, clients, or different entities.
Outside of McIntire, what are your favorite things to do in Charlottesville and the surrounding area?
I am an advocate for having a life outside of school because it can be unhealthy to focus only on schoolwork. Every Thursday, I make it a requirement that I take some time to myself and try different restaurants with some of my classmates, ASADO being my favorite. Outside of trying out new places to eat, I love to go to sporting events, and anytime I could catch one of the UVA wrestling matches, that was always a plus. Lastly, the McIntire graduate council often plans great activities that allow us to socialize as a class and build friendships outside of our daily class meeting.