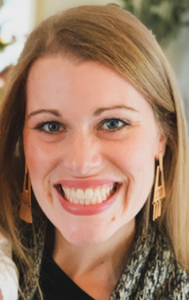 Why did you choose to participate in MBI?
I graduated with a degree in Child & Family Studies and Psychology seven years ago. While I am very thankful for my degree and loved my major's curriculum, I graduated with very little business knowledge. I've learned many valuable skills in past jobs, but I decided to participate in MBI to develop a deeper understanding of business and to help me in my career pursuits. I would love to move into a Director of Operations role, and eventually the Executive Director position for a nonprofit that works with individuals with disabilities. Having a business background makes a huge impact in being considered for such roles.
As a full-time employee, have you found MBI to be manageable with your day-to-day schedule?
My current job is fairly flexible, so I'm able to work around the MBI schedule, which is a major plus. I did inform my employer about MBI and stressed how this program would not only strengthen my personal skills, but also improve my work proficiency. It is a little tricky balancing any outside schoolwork, though.
What is the most practical concept you have learned so far?
The most practical skill I have learned thus far is how to analyze balance sheets, profit and loss statements, and cash flow statements. This skill is very applicable to my career development, especially if I move into a Director of Operations or Executive Director role. MBI is the first opportunity I have had to develop a concrete understanding of backend finance.
What has challenged you the most?
The Finance unit was the most challenging part of the curriculum for me. Professor Mark White is very engaging and kind. However, since finance does not come naturally to me, I often ask questions and re-watch our class lectures to better understand new concepts. I really enjoyed the Excel portion of the unit, though, specifically our lesson on how to make charts in Excel. I also enjoyed learning how to use financial calculators and formulas to do quick financial math.
Do you have any advice to give to other MBI students who have a similar background?
Shape the curriculum to your advantage. I came into MBI with the intentions of developing a deep understanding of the skills needed for my career, while only developing a general understanding of the concepts that are not as pertinent to my career path. This tailored approach has allowed me to get the most out of MBI.
Would you recommend MBI to other working professionals?
If you have the flexibility in your work schedule, it's worth it! I chose this program because it was in person and offered a comprehensive curriculum. Due to my daily chaotic schedule, I did not want to be responsible for keeping up with asynchronous online classes. I also learn better in a classroom environment. With new COVID-19 circumstances, we have recently been transitioned from a hybrid class to a synchronous class online. While I do wish MBI was currently offered in person, I still recommend MBI if you are looking for a more structured option.