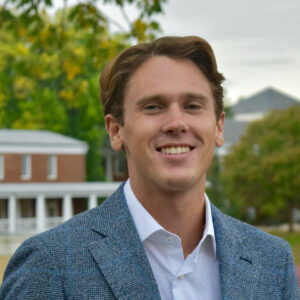 Why did you decide to participate in MBI?
MBI stood out to me as the best way to get a business education from a great school without pursuing a business degree and while working full time. I wanted an experience that would provide me with an excellent understanding of business and help me develop a skill set that I could leverage professionally in combination with my written and oral communication skills. I'm going to law school next academic year, and I want to concentrate in business law, which is challenging to do without a strong business background. I have some business experience between working as a financial adviser and running a small business venture alongside my mother, but there's definitely no alternative to learning business from brilliant professors in a classroom setting. I knew I needed to pursue an educational opportunity before law school that would provide me with a solid foundation in business, and I found MBI to be the perfect fit for my needs.
What skills have you learned from MBI that you did not learn as an English major?
A lot of the material covered in MBI is brand new to me, and there's certainly nothing I've learned in the MBI that I learned in any of my English courses. As an English major, I analyzed literary texts and offered written interpretations of them, and now in MBI, I'm doing the same thing, but with financial statements. From bookkeeping to calculating financial ratios and charting in Excel, I've already learned some invaluable business skills. It's been quite an adjustment learning to work primarily with numbers and in spreadsheets, but it's been very rewarding. Without MBI, my knowledge of accounting and finance would be limited, and I'd lack the confidence I need in those subjects to study business law. There's still plenty more for me to learn as we continue through the program, and I'm sure the skills I have yet to gain will be just as essential to my foundational understanding of business as what I've learned so far.
Would you recommend MBI to other UVA grads?
No matter one's desired career path, I would absolutely recommend any non-business major at UVA or UVA grad to participate in the MBI program. The program material is extremely valuable and widely applicable to a variety of job fields. Everything ultimately boils down to what's taught in MBI, whether you are working for a big company or a startup or you're self-employed. For anyone who wants a business education, but is unable or unwilling to dedicate themselves to full-time study in the subject, MBI is the right solution.
How do you plan to use your MBI experience in the future?
My experience has already changed my day-to-day life for the better and there's still so much I have to learn. From advising clients on insurance and investment matters, to running a small family business venture and making everyday financial decisions, my MBI experience has given me a new perspective and a fresh set of tools to work with. I'm certain that in law school, as well as after I graduate, my MBI experience will carry me. Maybe one day, I'll even own and operate my own law firm. I can't imagine any limitations on how I'll continue to utilize my MBI experience in the future.