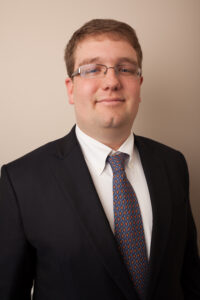 McIntire alum Mager Koromhas (McIntire 2017, M.S. in Accounting 2018) is the recipient of a 2019 Elijah Watt Sells Award. To qualify for the American Institute of CPAs (AICPA) honor, CPA candidates must obtain a cumulative average score above 95.50 across all four sections of the Uniform CPA Examination and pass all four sections on their first attempt. Of the nearly 75,000 individuals who sat for the CPA Exam last year, only 137 met the criteria for the award.
We recently sat down with Koromhas, now an Audit Associate at KPMG in Virginia Beach, VA, to discuss how he prepared for the challenging exam and how McIntire contributed to his success.
How did UVA's M.S. in Accounting (MSA) prepare you for the CPA Exam?
I think UVA does a great job of teaching how to think critically when working through accounting issues and how to apply the codification to real-life scenarios. A big piece of advice I would tell people while studying is to think of "why" instead of "what." For example, instead of trying to memorize a lot of codification, thinking about why a certain standard is written the way it is and its implications for various transactions made it much easier to remember that content and to apply it on the exam. That was a mindset and a skill that the McIntire helped me to learn.
What was your timeline for preparing for the exam?
I started studying for REG at the beginning of the spring semester of the MSA program and took the exam during spring break. I then focused on Audit from spring break through the end of the academic year and took the exam at the beginning of summer. I studied FAR for most of the summer and took the exam in early August, a week before starting work. Finally, while working, I studied throughout the fall and took BEC in early January. The whole process took me about a year.
What advice do you have for someone balancing grad school with CPA Exam prep?
The first thing to remember is that when you start work, your life gets busier and, in some ways, less predictable. When you start out, you don't know what clients you'll be assigned. Some of my study plans were put on hold if I had an out-of-town client and I was busy. Therefore, I recommend having a game plan to try to get as much prep done before you start working. Remember that it will pay off when you can come home from work and relax instead of having to worry about the exam. Not only do you get to relax, but being able to focus on work is also another boost as you start your career.
While in the MSA Program, I would say outline a plan, but be realistic with yourself on how you work best to complete it. I made weekly goals to get certain chapters done in my review book. However, I left time in my schedule to spend with friends and enjoy my last months in Charlottesville, which was important. Not only do I think I got more out of my time, but making a plan also helped me to rest, which helped my ability to focus while studying for the exam as well as in the classroom.
What was your biggest takeaway from UVA's MSA Program?
As I mentioned earlier, the Program taught me that it is more important to try to understand why something is happening, as opposed to only focusing on knowing what happens. This helped both with the exam as well as the start of my career in public accounting.