By Olivia Schmidt
Last semester, I spent way too much time in Zoom classes, staring at the wall behind my desk, or even worse, sitting in my dangerously comfy bed. This spring, I'm trying to be intentional about spending more time studying on Grounds, at coffee shops, and with friends. My apartment feels more restful when I separate where I live from where I study. Here are some of my favorite places to study in C'ville lately, and they're all within walking distance from Grounds.
Comm School Courtyard — perfect for in between classes
The courtyard on the third and fourth floors of the Comm School is one of my favorite places to study in between classes this semester. Last summer, the courtyard got a makeover, with new tables, couches, and chairs that make it feel like a resort. Professors' offices border the courtyard, and when they have their doors open, it's fun to say hi and catch up. I've also been meeting up with classmates who are in Charlottesville to do group work in the courtyard—it's nice to see friends face-to-face when I can!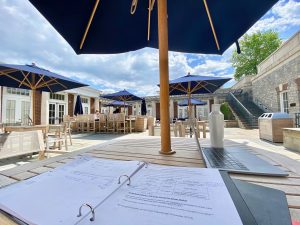 The Rotunda — most UVA-esque study spot
It's not every day you get the chance to study inside of a UNESCO World Heritage site, that is, unless you go to UVA. The Rotunda is the perfect quiet place to crank out a long paper or get lost in a book. In the Dome Room, there are nooks with desks, bookshelves, and windows that overlook the Lawn, chapel, and Corner. My favorite spot to read is in the nooks above the stairs, which are a little tricky to climb up to but have the best view of the Lawn. The windows all around the Dome Room make it really pretty when the sun sets.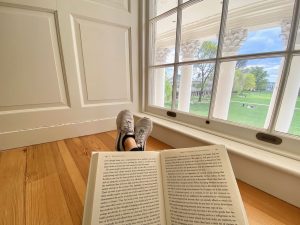 The Dairy Market — yummy brain food and a lively atmosphere
The Dairy Market opened over winter break and has already become one of my favorite spots. There's tons of distanced indoor and outdoor seating, and the 10+ restaurants inside can satisfy almost any mid-study-sesh brain food craving, from ice cream to pizza to Thai food, and more. The 20-minute walk from the Rotunda to the Dairy Market is the perfect time for me to listen to a podcast or catch up with a friend on the phone.
Grit Coffee Elliewood — study outside with great coffee
Last but not least, Grit on Elliewood is my favorite place to study outside and run into friends. I especially love going to Grit when my Integrated Core Experience teammate and favorite barista, Colton, is working. Last semester, Comm Council ran a three-day-long Grit coffee tab for us to grab coffee on them, which made my week. Grit is also the perfect place to get coffee with professors since it's right on the Corner. Next fall, when it's safer to hang out with my professors again, I'm hoping to grab coffee with each of my Integrated Core Experience professors.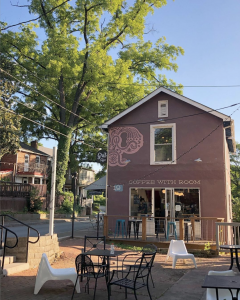 The longer I live in Charlottesville, the longer my list of fun study spots gets. If you're looking for a change of scenery near Grounds, come study at one of my favorite spots, or better yet, explore off the beaten path and find some of your own.