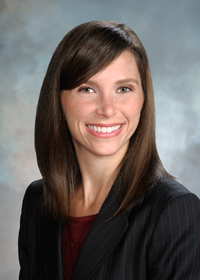 A member of the McIntire faculty since 2013, Professor Nicole Votolato Montgomery teaches the "Social Media Marketing Metrics & Strategy" course in the Marketing & Management Track. Prior to pursuing a career in academia, Professor Montgomery was a merchandiser at Abercrombie & Fitch Co. at the company's corporate headquarters in Columbus, OH. Focusing her research on consumer information processing, she aims to understand how the context in which information is obtained impacts how consumers integrate information into their evaluations of brands and organizations. I recently had the honor of learning more about her teaching style and perspectives on digital marketing.
What do you enjoy about teaching in the M.S. in Commerce Program?
I love that students in the Program have a variety of backgrounds, interests, and experiences. It makes class discussions really interesting and a lot of fun!
How did you become interested in teaching digital marketing?
I found digital marketing fascinating because it was not around when I first began my career. I am a naturally curious person and enjoy learning new topics. The more I read about how companies were leveraging digital channels, the more interested I became in learning about this area of marketing. I am drawn to digital because it is constantly changing. It keeps things interesting and drives me to continue to learn.
How do you see the future of social media and its role in digital marketing?
I can't wait to see how this area continues to evolve! I think digital channels that are not traditionally thought of as social networks will continue to integrate features that allow people to communicate with others, placing a greater emphasis on "social" in digital marketing. I am also excited to see how new technologies like chatbots, virtual reality, and voice tech will be integrated into existing platforms. It's an exciting time to be in digital marketing.
How would you describe your teaching style?
Excited…I LOVE the work I do around digital marketing and hope to convey that in the classroom through storytelling, discussions, Q&A, and hands-on learning activities.
From your experience teaching, what qualities do successful students possess?
The most important quality students can possess is curiosity. Learning a skill is great, but possessing the desire to learn will take you further. This is especially true in digital marketing because the skill set needed to succeed is constantly changing.
What is the one piece of advice you would give to your students?
Never. Stop. Learning.
How have you enjoyed living in Charlottesville?
Charlottesville is a great place to live. My family and I have really enjoyed getting to know the area and all of the amazing things it has to offer.