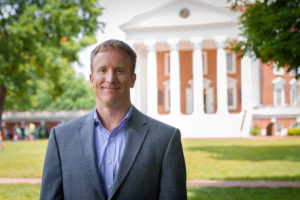 Professor Eric Negangard has extensive professional experience as a forensic accountant and has provided advisory and assurance services to numerous domestic and international organizations. Before pursuing a career in academia, Professor Negangard was a Manager in KPMG's Forensic Services Practice and served as a National Instructor. He is a licensed CPA in the state of Indiana and a Certified Fraud Examiner. Professor Negangard is also a beloved professor by the M.S. in Accounting (MSA) students who take his "Forensic Accounting" course.
In what areas do you see the greatest professional development among your MSA students from the beginning of the program through graduation?
Confidence, particularly as it relates to talking about complex accounting issues and how to identify and use data to solve real-world business problems. All of our students come in with a strong technical accounting background, but they often lack confidence in their own ability to think through and solve complex, real-word accounting problems. A year in our MSA Program improves dramatically both their ability and confidence as they relate to recognizing and communicating the interesting ways in which accounting affects the world around them. As a result, our graduates are much better at, and more excited about, finding novel solutions to complex accounting problems.
What is the biggest difference between a typical undergraduate business course and a graduate-level course such as your "Forensic Accounting" course?
Conceptual learning and the constant need for a critical mindset. My course, "Forensic Accounting," lies at the intersection of what we traditionally think of as accounting and what society views as appropriate behavior (or, alternatively, what regulations and the law have dictated as appropriate or inappropriate behavior). Fortunately, or unfortunately depending on your perspective, no two legal or regulatory disputes are the same. As such, a work plan or roadmap to the optimal solution, or winning argument, does not exist. Whereas traditional undergraduate courses are often geared towards learning content, my graduate-level "Forensic Accounting" course is 100% about how to creatively solve accounting and legal problems. Doing so almost always requires identifying and collecting digital evidence such that you can understand the realities of who, what, when, where, and why.
What differentiates McIntire and UVA from other universities you have worked at in the past?
The two biggest differentiators for UVA McIntire are our hands-on, high-touch approach to learning and the way in which we embrace change and the need for critical thinking in the accounting profession. Faculty here at UVA McIntire are very accessible to students and, as a result, build lasting relationships with them. Everything we do is geared towards interactive, social learning, which means our students are always collaborating with their peers, working in teams, and seeking feedback from our faculty. This approach allows students to have more fun, see the bigger picture, and develop a true passion for their chosen profession.
Another differentiator is the fact that we are increasingly focusing on technology and the use of accounting analytics to solve business problems. While some master's of accounting programs claim to be offering content related to data analytics, from my experience, the actual changes these schools have made to their curriculum are surface level at best. While others have been slow to incorporate the use of technology, here at McIntire, we have embraced the change that disruptive technology is having on the accounting profession and, as a result, are better able to prepare our students for the digital world.
Outside of McIntire, what are your favorite things to do in Charlottesville and the surrounding area?
My wife, Ashley, two sons, Kyle and Crew, and I absolutely love the Charlottesville area. We are diehard Hoos fans and attend as many UVA sporting events as possible. If the Hoos aren't in town, or summer is in session, you can often find us enjoying the scenic Blue Ridge Mountains at one of the numerous local breweries or wineries. Also, while my kids aren't old enough to join me yet, I really enjoy riding motorcycles in and around the Charlottesville area. This part of the country has some truly amazing trails that make for exciting and very challenging off-road adventures!