UVA Center for Real Estate & the Built Environment's Alumni Reception in NYC
June 06, 2023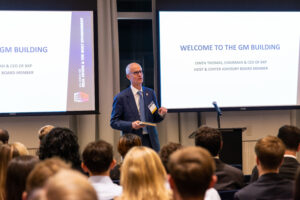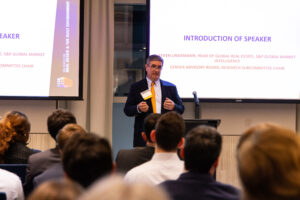 The UVA Center for Real Estate & the Built Environment hosted a reception for UVA alumni at the Savoy Club in the GM Building in New York City on Tuesday, June 6, 2023 courtesy of Owen Thomas, Chairman & CEO of BXP and member of the Center's Advisory Board.
During the two-hour event, Mr. Thomas gave a brief talk on the history of the GM Building after which Professor Andrés Clarens of the UVA School of Engineering and Applied Science, and Associate Director of the Environmental Institute, gave a presentation on 'reinventing cement'.  His team's new technology is moving towards commercialization and is partially supported by the Center's seed grant program.
George A. Overstreet Jr. Outstanding Student Award
A highlight of the alumni reception in New York was the presentation of Jefferson Cups to the Center's first recipients of the George A. Overstreet Outstanding Student Awards.  Each spring the Center will recognize one graduating UVA undergraduate and one graduate student who have demonstrated sincere commitment to pursuing a career in real estate and have made an outsized contribution to the mission of the pan-University Center.  Nominated by faculty members from across Grounds, the awardees are selected by the Center's Advisory Board and announced to their School or College ahead of graduation in May.
Our 2023 winners are Erik Smith (Darden '23) and Hannah Yi (McIntire '23).  We were delighted that Erik's family was able to attend the reception and accept the award on his behalf. Hannah began a position as a Commercial Real Estate Analyst with Wells Fargo in New York, and Erik has relocated to Nashville to work as a Senior Development Associate at Elmington Capital. Both Erik and Hannah served in their respective real estate club's leadership at UVA and contributed greatly to the mission and strategic planning of the Center in its infancy.  Wahoowa!