Urban Land Institute (ULI) Virginia Info. Session
September 18, 2023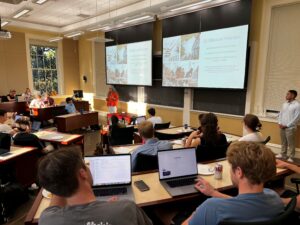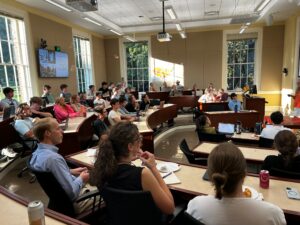 On Monday, September 18, 2023, the White Ruffin Byron Center for Real Estate and the Virginia Undergraduate Real Estate Club (VUREC) hosted the Virginia chapter of the Urban Land Institute (ULI) for an informational session about the organization, their resources, activities, and opportunities to engage with members at regional and national ULI events.
More than 50 students packed the classroom early in the fall semester to hear from Jane Milici, Executive Director at ULI Virginia and Jenny Stoner, First Vice President, Cushman & Wakefield | Thalhimer (Chair of the Charlottesville Programs Committee with ULI Virginia), as they spoke about ULI Virginia's mentoring program, case studies, and site tours with ULI members and industry leaders.  Jane and Jenny were also joined by Moises Romero, Chair of ULI Charlottesville's Young Leaders Group.
During the academic year 2022-2023, the Center for Real Estate joined ULI's University Partners program by sponsoring 14 students from the College of Arts & Sciences, the School of Architecture, the Batten School of Leadership & Public Policy, and the McIntire School of Commerce for ULI Associate Memberships.  We look forward to supporting student memberships in ULI again this year – and seeking additional opportunities to partner and promote learning and exploration with ULI.  UVA students interested in joining ULI with Center support, please click here to apply no later than November 1, 2023.
The mission of the Urban Land Institute (ULI) is to shape the future of the built environment for transformative impact in communities worldwide. ULI Virginia curates opportunities for their members to be challenged and discuss complex city-building issues and the responsible use of land. As a growing district council and part of a global network with over 42,000 members, ULI Virginia brings together industry leaders and emerging leaders from across the region and around the country to share their experiences and insight.