2022 Knowledge ∞ Continuum
May 13, 2022
The 2022 Knowledge ∞ Continuum is a hybrid educational engagement that spans the entire calendar year and includes three virtual programs along with the return of our traditional daylong event at the McIntire School of Commerce on Grounds at UVA in Charlottesville on Friday, May 13, 2022. Patrons (participants) were able to register for the virtual cohort, the in-person cohort, or the "full" cohort of all events.
If you are interested in participating in a future Knowledge ∞ Continuum, or just want to receive updates and invitations to Center events, please click here to share your contact information with the Center for the Management of IT (CMIT). We also encourage you to stay connected by following the Center on LinkedIn.
Friday, March 11, 2022
What's in Your Digital Wallet? Self-Sovereign Identity (SSI) and Verifiable Credentials: A Conversation with Mary Lacity, Blockchain COE, University of Arkansas
During our first virtual program of 2022, Mary Lacity, Director of the Blockchain Center of Excellence at the University of Arkansas, spoke to Patrons about self-sovereign identity (SSI), or "self-sovereign verifiable credentials" more accurately, an emerging decentralized model to allow automated identity verification. An interactive poll early in the session showed that the great majority of the audience was "ready to start learning about SSI." After giving a primer on SSI principles and the evolution of identity verification and credentialing online, Lacity provided a deeper dive into the process through which verifiable data is managed through the blockchain by sharing a whitepaper on the development and implementation of a staff passport for the UK National Health Service (NHK). From a well-timed pilot in 2019 through the COVID-19 pandemic starting in 2020, the NHS partnered with a number of technology providers to build a digital verifier and passport process through which all employees can securely onboard, share identity documentation, connect with HR, and move through their large and complex staffing system without an overlay of accounts and passwords, or additional online authentication and verification requirements.  After her presentation, Patrons joined a breakout room for 20 minutes of networking and discussion moderated by McIntire faculty, with one room taking a more technical "look under the hood" of SSI and the other exploring business use cases for SSI.
Friday, May 13, 2022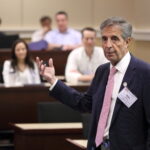 The McIntire School was thrilled to welcome approximately 50 Patrons back to UVA's Grounds on Friday, May 13, for the return of our traditional daylong executive residency in Rouss & Robertson Halls. At the start of the day, Professor Ryan Nelson presented CMIT's annual IT Leadership Award to Stephanie Mango (McIntire '94, M.S. in MIS '95), President of CGI Federal, and the Emerging Leader in IT Award to Emily Kruse (McIntire '22), incoming MPhil of Development Studies candidate at Trinity College at the University of Cambridge. After the award presentations, the daylong program began with a keynote talk from Peter High, Founder and President of Metis Strategies and author of Getting to Nimble: How to Transform Your Company into a Digital Leader. After his overview on digital transformation, High moderated a panel discussion featuring three C-suite executives from companies spotlighted in his book, including Maureen Jules-Perez, Managing Vice President & Divisional CIO, People Tech, Capital One; Shamim Mohammad, EVP & Chief Information & Chief Technology Officer, CarMax; and Shailesh Prakash, EVP & Chief Information Officer, The Washington Post. After lunch, the audience received an updated cybersecurity briefing from Mike Higgins, the CISO of Amazon Healthcare. The day's program concluded with an incredible presentation from Professor Stefano Grazioli titled "Unlocking the Metaverse," in which he shared several powerful videos and concepts previewing future developments and directions for the use of AI, virtual and augmented reality, the metaverse, and Maxine.
During the day, Nelson was surprised when a large number of McIntire faculty and staff entered Room 123 for the presentation of the 16th Annual Faculty Recognition Award from The Order of the Claw & Dagger. Associate Dean Ryan Wright presented the award and read aloud from a letter The Order provided.
Check out the 2022 Knowledge Continuum agenda for the May 13 program. Photo highlights from the day are featured below:
Friday, Aug. 19, 2022
On Friday, August 19th, our Patrons gathered on Zoom for the third quarterly installment of the 2022 Knowledge ∞ Continuum session. Center Director Professor Ryan Nelson introduced the topic of the session, "Return to the Office", a discussion on returning to work, company policies regarding hybrid work, and work-life balance during and following the COVID-19 pandemic. Participants heard three separate talks from researchers who focus on the various approaches and outcomes associated with "Return to the Office" initiatives.  Professor Peter Gray kicked off the session with a discussion of his research that resulted in the co-authored article Optimizing Return-to-Office Strategies with Organizational Network Analysis.  He highlighted the technique of using "organizational network analysis (ONA)" to map employees' relationships and connections in order to maximize the impact of their time spent in the virtual versus in-person modalities. Following Professor Gray's presentation and brief Q&A with the audience, we turned to Professor Chris Maurer for a conversational interview with the Chief Product Officer of WillowTree, Blake Sirach. Professor Maurer is developing a case study focused entirely on WillowTree's return to office strategy and Blake was able to dive deeper into the small Charlottesville-based company's growth strategy and focus on employee health and retention.  The virtual program concluded with an informative presentation by Professor Saonee Sarker of Laud University,  who summarized her co-authored book Navigating Work and Life Boundaries: Insights for Distributed Knowledge Professionals.
Friday, December 9, 2022
At this bonus in-person event, Knowledge ∞ Continuum patrons will join the MS MIT Class of 2023 on the afternoon of Friday, December 9, 2022 at Valo Park in Tyson's Corner, VA for an engaging talk by featured speaker Sanjiv Augustine, Agile management consultant, entrepreneur, and author of From PMO to VMO: Managing for Value Delivery.
Agile methods have brought about dramatic changes in how organizations manage and deliver not only IT services, but their entire product and service value streams. As legacy organizations transition to newer, end-to-end agile operating models, the Project Management Office (PMO) needs to redesign its mission and operation to be more in line with these modern ways of working. That requires being more customer-focused and value-adding, and less hidebound, bureaucratic and tied to antiquated processes and mindsets. Visionary leaders are transitioning into enablers of this change, and maximizing value through the entire organization. This talk will define the role of the agile value management office (VMO), using case studies and a clear road map to help PMs visualize and implement a new path where middle management and the VMO are valued leaders in the age of business agility.
Sanjiv's talk will be followed by a holiday reception with MS MIT faculty, staff, students, alumni, and CMIT patrons.  This event is open to the public, please click here to register.