ASB Real Estate Investments – Financial Modeling Training
September 18, 2023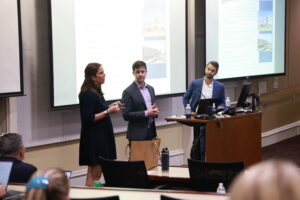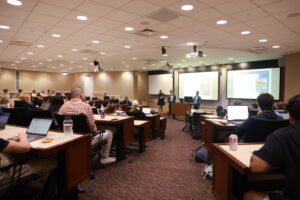 On Monday, September 25, 2023, the White Ruffin Byron Center for Real Estate hosted a training session for nearly 80 UVA students. During this event, the ASB Real Estate Investments team conducted a "how-to" session focused on the essentials of building a discounted cash flow model, a crucial tool for evaluating real estate investment opportunities. The program offered a solid foundation, both in terms of conceptual understanding and technical skills, to students interested in creating a fundamental analytical model for informed investment decision-making. The Virginia Undergraduate Real Estate Club (VUREC) co-sponsored this event.
Before the program commenced, the Center for Real Estate treated the students in attendance to Mellow Mushroom pizza, providing a valuable networking opportunity.
We extend our sincere gratitude to the ASB Real Estate Investments team for visiting Charlottesville and sharing their expertise with our students. Special thanks go to Senior Vice President Michael Wiest (McIntire '10), Vice President Jack Hallemann (McIntire '15), and Investment Analyst Mary Clarke Wallace (A&S '22, McIntire '23).
ASB Real Estate Investments, a division of ASB Capital Management, stands as a prominent U.S. real estate investment management firm, boasting an impressive $9.2 billion in assets under management (AUM) and serving over 310 institutional clients. Headquartered in Washington, D.C., ASB extends its investment strategies across major markets throughout the United States, with a primary focus on industrial, multifamily, office, retail, and self-storage properties.