How is business in the U.S. developed? How do we understand it better from a global perspective contemporarily? How do we leverage resources in the U.S. to achieve personal career success as young graduates? The cohort in the M.S. in Global Commerce Program is trying to find their answers with the help of Assistant Dean of Academic & Faculty Affairs Chris Elliott, who teaches the course Doing Business in the U.S. during the first semester at the University of Virginia.
During the first week of November, as part of the course, we attended a three-day business excursion to Washington, D.C., and made unforgettable memories. "Washington, D.C., is clearly an important place to visit to understand so much about the United States–from the country's history to politics, policy priorities, and infrastructure challenges. But we especially wanted to bring the M.S. in Global Commerce cohort to Washington, D.C., to visit with companies that learn to successfully navigate the unique U.S. business environment in the nation's capital." Assistant Dean Elliott talked about the reasons for the business excursion. During the excursion, we visited organizations and companies in various industries, including the U.S. Department of Commerce, Bloomberg, Gallup, Hilton, and the Washington Nationals at Nationals Park. Also, we immersed ourselves in D.C. by experiencing as much as possible with our cohort together, including food, sports, and museums. In this post, three students from Europe, China, and the United States share their feelings and learnings from this D.C. excursion from different cultural perspectives!
Lena Hametner, from Austria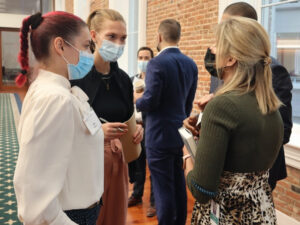 The trip to Washington, D.C., and the many interesting company visits offered a valuable insight into doing business in the U.S. For me, two things stood out: Companies within the U.S. are vastly different from each other, depending on the industry, and the one common factor they had was a focus on relationships–in terms of business relationships and networking but also customer and private relationships.
To me, the company visit at Gallup stood out. Vipula Gandhi, Head of U.S. Enterprise and Managing Partner at Gallup, offered a new perspective on research and well-being at the workplace. As I am passionate about human resources, the presented study about employee needs and desires, generational changes, and post-pandemic predictions for the world of work was fascinating. Gallup researchers are extremely culturally sensitive and people-focused in how they collect their data. Conducting surveys in Nigeria is an entirely different venture than doing so in Virginia.
It was great to visit companies on-site. After over a year of coronavirus, I had gotten very used to Zoom meetings and forgot how much more intense an experience is when you have it at someone's "home." The ambiance of the Hilton Innovation Center was very different from that of Gallup and again from that of the Washington Nationals. Just being present at those locations deepened my feeling about how U.S. companies vary from each other. And just being in D.C. and having that bustling, exciting feeling of a city where a lot is happening all around me felt very authentically "American."
The U.S. has a unique history when it comes to business. Entrepreneurial spirit and the drive to succeed professionally are more ingrained into this country than any other. With it comes a higher preference for risk-taking–failure is okay, even the worst loss beats never trying in a business context. For me, it was interesting to learn which impressions I had watched from afar about business and work in the United States held true and which didn't. And for some of the stereotypes I had that held true (as a European, U.S. labor laws, work hours, and strictly limited days off are very foreign to me), I found explanations why they are constructed that way.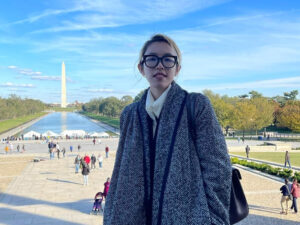 Jingyi Wang, from China
The most impressive speaker to me was Ethan Zindler, Head of Americas at BloombergNEF. I am very interested in new energy but had only a few scattered ideas about it before. Ethan's macro-analysis from the perspective of the entire new energy industry provides me with a clear framework and an in-depth overview, including the current energy situation and future trends and emerging product needs in Europe and China. I didn't know before that Bloomberg has a sector like NEF and that their global expansion had developed into Asian countries like Singapore and China. In the future, I'll pay more attention to their job opportunities and the resources and analysis BloombergNEF provided to accumulate related knowledge.
The D.C. trip also deepened my understanding of American business. Since capitalism has developed to a very high level in the U.S., enterprises here also possess the spirit of freedom and innovation to develop themselves. This is not just about technology innovation, but more about management and business model innovation. Young professionals are also given a high degree of freedom and trust, which in turn motivates them to create greater influence beyond their positions. That's why we can see that the Department of Commerce spares no efforts to encourage and cultivate innovation and entrepreneurship, and Hilton is constantly breaking through its global business map. I am also inspired by the alumni sharing at the McIntire alumni dinner on the second day. They jumped out of their comfort zone and faced the challenges bravely, whether it was academically or in the workplace. Joining the M.S. in Global Commerce Program is a good start for me to step outside of my comfort zone and explore diverse culture, and in the future, I will also keep challenging myself in different fields.
I really appreciated the insights that the course brings to me. Through the well-structured assignments and classes, I got the chance to talk with young professionals, entrepreneurs, and managers through the guest lecture, the informal interview, and company visits. As some have already successful business management methods and some just entered the workplace a few years ago, they provided me with different perspectives to understand how business is in the U.S., and inspired me to pursue my personal career path.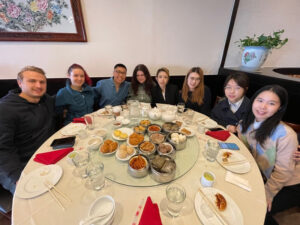 Jemma Sager, from the United States
As an American student, I think my experience in D.C. may have been different from that of my international peers, as I am already familiar with some business environments in the United States. That being said, I still found the trip to be an incredible learning experience! Of the businesses we had the pleasure of hearing from, I was most excited by our time with Gallup. While I was familiar with some of Gallup's polling work, it was very interesting to learn about the work they have done relating to workplace engagement and the utilization of individual people's strengths.
While I generally have not been interested in research-heavy career positions, our time at Gallup has changed my perspective. The research at Gallup has the potential to create both immediate and long-term effects in workplaces around the globe, and I was very inspired by the possibility of helping shift workplace dynamics to the benefit of both employees and organizations.
We also had the opportunity to meet with past McIntire and Global 3 alumni. It was very enlightening to hear their perspectives on the program and learn more about the different career paths they have taken. Advice from past program alumni has been very valuable, especially as we navigate these difficult few weeks. It's a challenge—albeit a rewarding one—to balance everything in this program!
Outside of our business trip, our learning continued! I think my favorite experience of the trip was getting dim sum with some of my classmates. Food is such a fun and accessible way to share and experience the culture. Visiting the restaurant together felt like a continuation of the international dinner series we have conducted as a cohort. My roommate is from Guangzhou, which is known for its dim sum, so she helped to guide us through the menu. While our original plans to study in Guangzhou may not be possible, I'm very grateful to have been able to learn more about Chinese culture.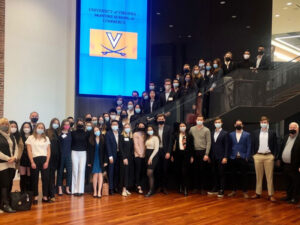 Concluding Comments
Lena's, Jemma's, and Jingyi's takeaways from their experiences from the D.C. excursion are inspiring! It is exactly the most amazing thing in this M.S. in Global Commerce Program: We gain invaluable experience living, studying, and collaborating with classmates from culturally diverse backgrounds as you move as a cohort between American, Asian, and European residencies. We absorb knowledge based on our personal cultural backgrounds and experiences. And then, as we talked with each other, we always refresh the perception and can understand business issues with a culturally diverse view.
As Lena mentioned, it is amazing that the cohort has the chance to visit companies in person, and this cannot happen without the efforts of our faculty. Assistant Dean Elliott said, "Given the complicated challenges of bringing a group of 50 visitors into one's office, especially amidst ongoing conditions of a global pandemic, we are especially grateful to the companies who open their doors so graciously to host our Doing Business in the U.S. class again this year." We treasured this as an opportunity to exchange more perspectives in every conversation. He was also impressed with students' engagement with company hosts this year: "Their questions and follow-up discussions were professional and purposeful, indicating a good baseline knowledge of the companies. Several of our company hosts remarked following the visit that they also were struck by the excellent set of questions posed by the students, followed quickly by 'Please come back next year' and 'Encourage your students to apply for our open positions.' After having led these types of immersive courses around the world over the last decade, these reactions are among the highest praise we can expect to encounter."
Assistant Dean Elliott also gives his best wishes to the M.S. in Global Commerce cohort: "This program offers an extraordinary opportunity to interact with Senior Vice Presidents, Managing Partners, and Directors across a wide range of leading companies and agencies–a set of perspectives in a week that would be nearly impossible to replicate without a program like what is offered here through the M.S. in Global Commerce cohort. I often hear from our program alumni that they didn't quite realize how extraordinary that experience was until after they graduate and start in their professional roles, and have a chance to reflect on all they'd experienced this year. I encourage all of our current students to keep–a journal, a blog, a photo album, etc.–to help you to remember all of the amazing things you are doing this year. To our future students, we look forward to meeting you soon and helping you to also explore these outstanding places and to understand their multifaceted business environments."