This was definitely a first for me: celebrating New Year's Eve flying over multiple time zones! My journey began the morning of Dec. 31, when I flew out of Dulles International Airport in Washington, DC, bound for Thailand's Suvarnabhumi Airport in Bangkok, to begin a two-week McIntire community visit with students, faculty, Global Advisory Board members, alumni, parents, and friends in Southeast Asia/ASEAN (Association of Southeast Asian Nations). What a way to ring in 2023!
Sites of Special Significance and More
Upon landing in Bangkok, I wasted no time in immersing myself in the historical, cultural, and traditional roots of the Kingdom of Thailand, exploring several sites that help tell the story of what is often referred to as the Land of Smiles.
Wat Arun, locally known as Wat Chaeng, is a Buddhist temple located on the west bank of the Chao Phraya River. It derives its name from the Hindu god Aruṇa, and is often personified as the radiations of the rising sun. The spectacularly ornate floral mosaics are made from broken multicolored porcelain, as ships calling at the port of Bangkok discarded tons of old porcelain once used as ballast.

Wat Phra Chetuphon (Wat Pho): Temple of the Reclining Buddha is where history, medical science, and educational institutions cross paths. Believed to be founded during the 16th century, it is one of the oldest and largest wats, or temples, in the country and later served as The Royal Temple of King Rama I of Chakri Dynasty. Inside the main ordination hall is the sacred Reclining Buddha, stretching more than 150 feet in length. The feet of the reverent golden Buddha are beautifully inlaid with mother-of-pearl and carved with sacred symbols. Wat Pho is considered a UNESCO Memory of the World (MOW), evidence of historical significance for Asia and Pacific Region.

The Grand Palace is one of Thailand's most revered sights, home to the country's most visited temple, Wat Phra Kaew, more commonly known as the Temple of the Emerald Buddha. The Grand Palace has been the official residence of the kings of Siam (and later Thailand) since 1782.
I also participated in business briefings that included an interesting session with Lazada, Southeast Asia's leading e-commerce platform and regional flagship of the Alibaba Group, which highlighted the abundance of opportunities in Thailand and beyond. Special thanks to Werapong Goo, Panasm Wongbencharat, Topp Jirayut Srupsrisopa, and Sonam Sachatheva (McIntire '10) at Lazada and Palmy Veerapat Keerati (McIntire '10) for sharing your time and expertise!
Mana Anandsongkit (A&S '08) moderated an engaging panel for our students to discuss consumer insights in the region through the lens of family offices, private equity, and commercial enterprises. The students heard from Gancanapol (Pon) Van Compernolle, Managing Partner at Ross & Van Compernolle; Win Thanapisitikul, CEO at Supra Group, who was responsible for quickly manufacturing masks for Thailand when the pandemic hit in 2020, among other ventures; and Jay (Ekachai) Sukumvitaya, Deputy CEO at Jaymart Group. Hearing from these investors continued to inform the students about the boundless opportunities in ASEAN.
Driving Innovation
There's nothing like learning about innovation in the places where it's actually happening. After heading about an hour outside of Bangkok, I joined Professor Trey Maxham and 23 of his J-term students exploring Consumer Insights in Thailand and Vietnam to visit Nissan's plant in Thailand. The class, composed of mostly Commerce fourth-years, was hosted by Isao Sekiguchi (Darden '04), Regional Vice President, Marketing & Sales in ASEAN and President of Nissan Motor Thailand and Nissan Motor Indonesia.
We had a full day at Nissan, meeting with members of the Nissan ASEAN and Thailand team; touring their automotive plant; and taking a deep dive on the evolution, volume, competitive environment, customer preferences, and a host of other aspects that define the Thailand and Vietnam markets. We also learned about the unique tech behind Nissan's electrified "e-Power" models. In addition to discovering such a great deal about the complexities that Nissan ASEAN faces, the visit provided me with the opportunity to engage with students…as a student myself.
I greatly enjoyed learning with—and from—these bright UVA students. I could tell that an experience such as this one has already positively impacted how they view the world, and many are now considering the possibility of an international or global career. The McIntire experience is truly unique, the students exceptional, and going "back to school" this week shaped up to be everything I could have hoped it would be!
A Goodbye Dinner on the Water
Before leaving Thailand, Professor Maxham, McIntire Director of Global Advancement Darci Spuck, and I were hosted by UVA parents Anand Jagota and Namfone Udomyamokkul, and their son Anish Jagota (UVA '26), for a magnificent dinner cruise on the Chao Phraya River.
This was a wonderful way to learn about the gourmet food business in Thailand, as we sailed down the river on a three-story teak wood yacht. We passed the historic Mandarin Oriental Hotel, which has been part of the riverside community for over 143 years, as well as Asiatique, which was once an international trade port and is now a sprawling warehouse complex with a lively night bazaar. We also caught a glimpse of the colonial architecture of the Embassy of Portugal, the oldest European embassy in Bangkok. Along with the company of friends, it was a fantastic way to wrap up our time in Bangkok!
Singapore Discoveries
We began our time in Singapore with a small alumni lunch hosted by Yix Ng (McIntire '09) and Candice Ong (McIntire '07).
This gathering offered a great opportunity to meet some of the local McIntire alumni community and welcome in the Year of the Rabbit by participating in Yee Sang/Yu Sheng, a Prosperity Toss Salad known to bring good luck for the new year. The Teochew-style salad is considered as a symbol of abundance and prosperity that includes "auspicious wishes" for each ingredient as it is added. Everybody around the table tossed the Yu Sheng enthusiastically and as high as possible with our chopsticks; the higher we tossed the ingredients, the more prosperity is said to come our way in the new year.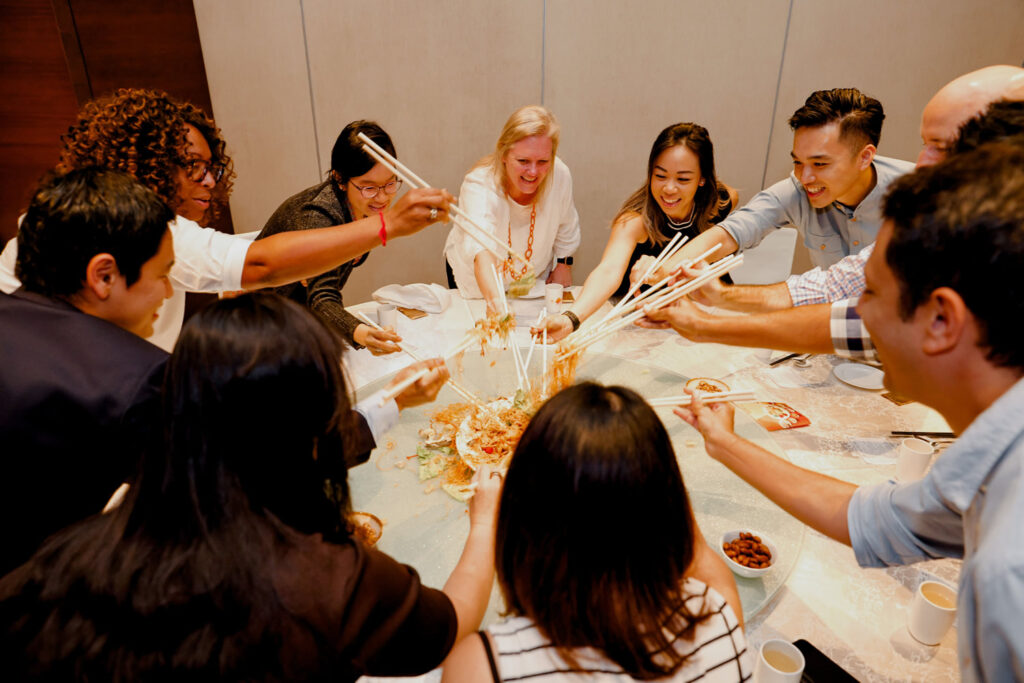 Never a dull moment, further exploration of this amazing city was in order! Along with students from Professor Bob Webb's Asian Financial Capitals: Kuala Lumpur and Singapore J-term class, we visited Gardens by the Bay, a sprawling nature park known for the Flower Dome—the world's largest glass greenhouse—and its 18 Supertree vertical garden structures. The park proved to be worth the hype. To get a bite to eat with students, we made sure to stop by one of Singapore's famous hawker stall centers, sprawling community dining rooms that are on the UNESCO Representative List of the Intangible Cultural Heritage of Humanity.
The following day, I was fortunate to have another enjoyable opportunity to feel like a student myself, when I joined Professor Webb and his class on their visit to the Airbus Innovation and Technology facility. Singapore is noted as being one of the world's greenest cities, so it's no surprise that Airbus Asia is leading the way when it comes to clean energy and clean aerospace. Hosted by Airbus President Asia-Pacific Anand Stanley (Darden '03), we examined the intersection of business and energy and the strides the organization is making—in addition to seeing their flight simulators! In working toward a healthier way to conduct business for the planet, Airbus Asia-Pacific explained how their approach benefits more than just the environment.
Rounding out the trip, we were thrilled to meet up with the greater University population in Singapore. An all-UVA alumni event welcomed us and current students at the American Club to provide updates from Grounds and to hear about the exciting plans for the future of McIntire. Warmest thanks to our Singapore alumni hosts Kyle Shaw (McIntire '83), Nikhil Nath (McIntire '95, Darden '00), and Anand Stanley (Darden '03).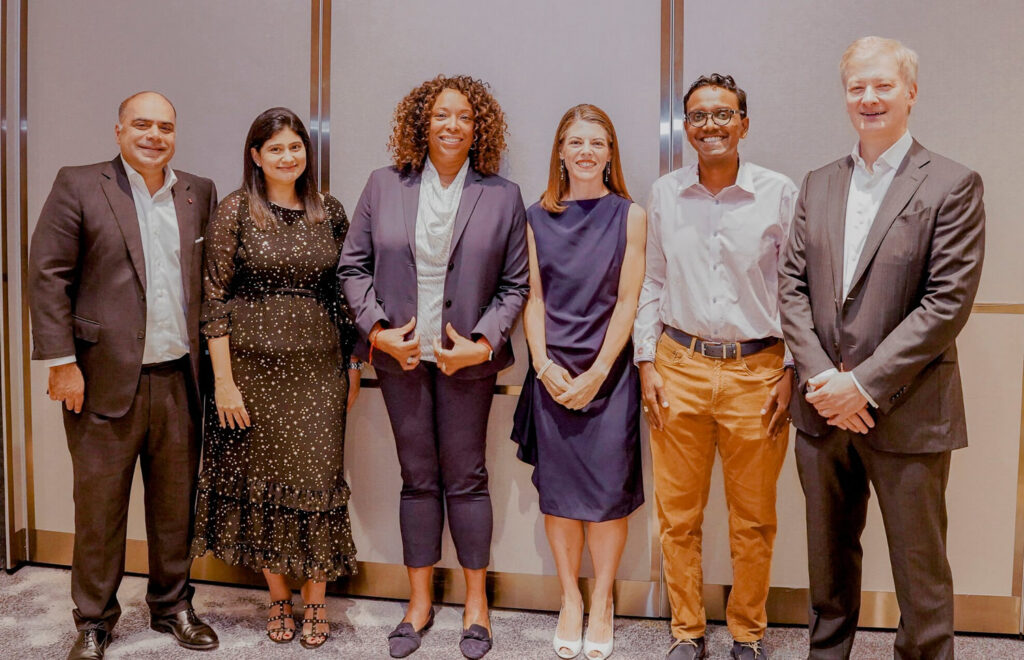 My time in Singapore could not have been better. Not only was I able to embrace local sites and traditions, I learned alongside faculty and students and met with industry leaders across a variety of sectors. Closing out the visit to ASEAN by spending the evening with UVA alumni and students may have been the highlight. Each time I meet with alumni, parents, and friends of McIntire and UVA, I'm reminded that the experiences our community offers are truly without limits.
Catch Up With Commerce
Find out about all the exciting things happening in the McIntire community. Visit our news page for the latest updates.
More News