The M.S. in Accounting Program at the University of Virginia offers two tracks for students to specialize in: Financial Reporting & Assurance and Tax Consulting. We connected with M.S. in Accounting students from each track, who shared how they chose the coursework that would be the best fit for them.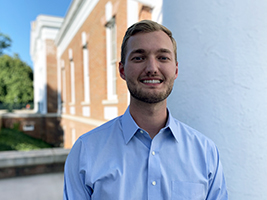 Josh VanWingerden
M.S. in Accounting 2020, Financial Reporting & Assurance Track
Undergrad: B.S.B.A in Accounting, Appalachian State University 2019
I chose the Financial Reporting & Assurance (FRA) Track with my future career in mind. I was fortunate to have experienced two internships when it was time to decide on graduate school and more specifically on an M.S. in Accounting Program track. When I think about financial reporting and assurance, auditing and advisory come to mind. In these particular roles, individuals are more likely work in teams. Personally, I thrive off of social interactions and liked the idea of having a team and being able to chat about random sports and restaurants during the day.
From an educational aspect, I focused on which classes were required for each track. The FRA Track appeared to hit a wider range of business topics. For example, in the spring semester, you must take "Forensic Accounting" in addition to "Taxes and Business Strategy." The "Forensic Accounting" course focuses on various "white collar" crimes, including cybercrime, money laundering, and corruption. This curriculum gave me peace of mind knowing I would be more prepared for what is thrown at me when I begin work. I also think it is important to mention the number of electives in the program and the ability to take courses offered in the Tax Consulting Track. I personally didn't go this route, but am aware of some individuals in the Program who have. I'd also like to emphasize that just because you are on one track does not mean that you are required to work in that particular field. It is definitely a big decision, but not a deal breaker if you have a change of heart.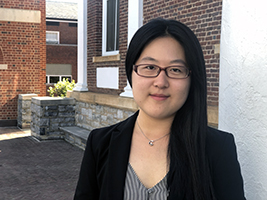 Lucy Chen
M.S. in Accounting 2020, Tax Consulting Track
Undergrad: B.S. in Finance, College of William & Mary 2019
I chose the Tax Consulting Track because it gives me the opportunity to explore further in areas such as partnership taxation, tax research, and taxation of corporations. I believe this track gives me in-depth knowledge beyond the basic tax concepts learned during my undergraduate studies. I think that having specialized knowledge in tax will give me an edge in pursuing future career opportunities such as mergers and acquisitions or wealth management. Personally, I also think choosing the Tax Consulting Track aligns with my long-term career goal of starting my own business.
Tax consulting is very specialized, and it takes some grit to go through it. It is, however, very interesting to me because there is some creativity to it in certain aspects. In general, tax service covers more than filing tax returns. It also covers tax planning, such as estate planning and corporate tax planning. As a result, in the long-term, there are a lot of exit opportunities in tax. Choosing tax consulting does not mean we are fixed in this field. Although most tax students end up in tax services, students still have the option to work in other fields that align with their future goals.
To talk further with current students about their experience on a specific track, request a student ambassador who can answer your questions!