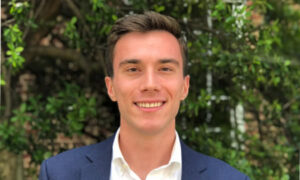 Roy Masha
M.S. in Commerce 2019, Business Analytics Track
Undergrad: B.A. in Economics 2018, University of Connecticut
Current role: Associate Consultant, Bain & Company, Washington, D.C.
How did your economics background help you transition to business?
I loved economics and thought I wanted to pursue it as a career as a researcher or professor. I quickly realized, though, that I didn't like research—it just wasn't my forte. So, I think the value of the M.S. in Commerce was merging a theoretical subject that I love, but adding more of a real-world application to it and understanding how it affects people and companies. It was cool to make those connections between economics and business, which I don't think in a traditional economics curriculum you really get most of the time.
Can you talk about adjusting to graduate school at UVA?
I went to the University of Connecticut for undergrad, so coming to UVA was really a totally new experience. I quickly fell in love with Charlottesville, so it was actually a very easy transition. I think the biggest change was the coursework and pace of the program. Coming from a theoretical liberal arts education and going into a business application-based curriculum was different for me. For example, the group projects were completely new to me. In undergrad, I'd go to class, take notes, take an exam, and repeat the process. In the M.S. in Commerce, the whole idea that coursework required participating in class discussions and doing group projects for every class was the biggest transition for me. I think that's really a foundational pillar of the Program.
How helpful was Commerce Career Services (CCS) in facilitating your career search?
CCS was super helpful in those first two months or so when consulting season kicks off, from the application opening up to receiving my offer with Bain. What I appreciate the most was being able to connect with CCS early in June before we started the program. It was really nice to get that initial support and talk through what industries interest you. They helped me prepare for when the application opened up in August. Then, once recruiting actually started, it was a little more tactical, like finding sources for case and behavioral interviews and comparing companies.
I remember after my initial interview with Bain, CCS connected me with other McIntire and M.S. in Commerce alumni who worked at Bain. I was able to conduct informational interviews, which was super helpful. Even after receiving the offer, I sat down with CCS staff who helped guide me through the negotiation process, what to ask for, and what not to ask for. CCS provides comprehensive support and is always there when you need them.
What is your favorite and least favorite part of your job?
My favorite part of the job is the fact it's project based. I love the fact that in my first year at Bain I've been able to work with clients in healthcare, aerospace, defense, and now a nonprofit COVID-based organization. I feel like that's a super unique opportunity, which invigorates me because it's a completely new challenge every time I start a new project. I also love the fact that I get to work with cool, smart people. You are never the smartest person in the room, which is kind of intimidating at first, but once you get comfortable with that, you realize, after listening to something your partner or manager says, "I would never have thought of that in a million years." Having those interactions is kind of like free education—very cool. Finally, the people make the job great. It's very comradery-based, which I really like because, at the end of the day, what you do is just as important as the people you are doing it with.
As for my least favorite aspects of the job, I think work-life balance is something you'll hear from consultants all the time. There are times in the middle of the week when your friends will invite you to do something and you're either in a different city or working late that night to meet a deadline. That's tough to navigate as a 23- or 24-year-old with an active social life.
I'll add one of the challenges to the job is adjusting how you approach a problem. You're almost retraining yourself to think from a hypothesis-driven standpoint. I think it's a big challenge transitioning from school to actual casework to actually applying it. Even after one year on the job, it's something I still struggle with. The learning curve is just very large between school and the actual job.
Any advice you would give to someone interested in management consulting?
It's not novel advice, but focus in on the consulting firms that you are genuinely interested in, because, honestly, each has their own culture and ways of working. Some people thrive in one environment while others may thrive in a different one.
Also, get comfortable with the case interview process. Everyone is going to say this, but it is an important part of the consulting recruiting process. Especially at Bain, you're first interview is just two cases, no behavioral, so it really does inform a lot of the decisions of who makes the cut. The actual problems in the case, the solutions should come naturally if you practice enough, but it's the framework and way of thinking out loud that a lot of people find intimidating.
Finally, look for ways to differentiate yourself. Especially with consulting companies that are more generalist, management, and strategy consulting firms, they're not looking necessarily for someone who knows all the business equations and the strategies and everything. They're looking for people who know how to think and problem solve, so anything that you can bring to the table that is different and showcases that you can think creatively is really important. The M.S. in Commerce Program fosters this way of thinking which is helpful.
Has the Global Immersion Experience influenced your work?
I was on the Greater China GIE track. It was probably my favorite part of the Program. I haven't necessarily worked on any international cases as of yet, but one thing, surprisingly, that has come up on the job is how global a company Bain is. When I went through global training, I was placed into groups with people from offices around the world, and it was one of the first times I got to see the dynamics between different cultures and countries. It reminded me of what I saw and learned during GIE.
When you're in a group working with someone from the UK, someone from Sweden, and someone from India, the way they approach a problem is different than how we might in the United States. You start to appreciate how certain businesses are run. It was really interesting to see those kinds of mindsets diverge into kind of a dynamic team.
Is there anything else you would tell current or potential McIntire students that we haven't discussed yet?
Yes! Enjoy the one year while you have it. It goes by so quickly and is hands down—and I'm not exaggerating when I say this—one of the best years you'll ever have. The friends I made are amazing, and luckily a lot of them are in the D.C. area, so I get to see them often. Recruiting may seem like a top priority, but take time to appreciate your friends and enjoy Charlottesville.
What else are you involved in outside of work?
I just love D.C. life. I try to spend time outside when I'm not traveling for work. I love running in D.C., and like I said, a lot of my M.S. in Commerce friends are in the area, so we hang out when we can. Bain is also active in supporting the community, so I've done a lot of volunteer work like food drives. The goal is to give back to the community.
Finally, what is your favorite Charlottesville activity?
We used to go to wineries on weekends. I'm from Massachusetts, so it was weird to me that the weather was so nice in March or April. Honestly, that was one of my favorite things to do. I was also there when the basketball team won the national championship, so that experience was one-in-a-lifetime. If I took one thing from that experience, it was that sports can really connect you to a school. I even had friends in the program who were diehard Tar Heels (The University of North Carolina at Chapel Hill), and even they were caught up in it. That was singlehandedly my favorite Charlottesville experience.