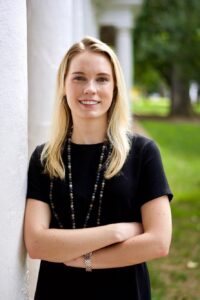 Natalie Conners (M.S. in Commerce '18), Finance Track
Undergrad: B.A. International Relations and Philosophy 2017, UVA
Current Role: Capital One, Senior Business Analyst (Washington, D.C.)
LinkedIn Profile
What was your most memorable class and why?
Two classes stand out. I loved Professor Boler's consulting class. This class was an amazing way to learn how to do case interviews and truly showcase how the M.S. in Commerce Program prepared me for the real world. I will also never forget the Global Immersion Experience. It was so much fun to visit businesses in South America. We went on some amazing company tours. It was interesting to hear from farmers who used to grow cocaine and now grow chocolate. Their transformation was fascinating. Another visit we took was to one of Brazil's state-run oil companies that was in the middle of a huge scandal about funneling money illegally. Talking to the owners during such an unusual situation was very cool and unexpected.
Did you take advantage of Commerce Career Services, and if so, how did they help you in the job search?
As a student, I took advantage of M.S. in Commerce Career Day to visit Capital One's headquarters in Richmond. We spent the whole day there, touring and learning about the company. Capital One was not on my radar before the visit, and I ended up loving it. Huge shout out to Commerce Career Services for setting this up!
Another advantage of CCS that I found helpful was resources to clarify which jobs matched with my interests. Handshake was super overwhelming, so to have people explain what those job titles meant and which connected with my interests was very useful.
What do you enjoy most about your job?
I love my job because it lets me solve complex financial problems for everyday consumers. I really enjoy making what can be a really daunting financial experience for a customer an easier process and more enjoyable experience. I also like that I have been able to think outside the box and see new products I work on go to market and create value for customers. I enjoy how my work is an interesting mix of using numbers and driving an actual physical product to market to support customers.
What advice do you have for prospective students?
The program is an amazing way to connect with other people about really interesting business strategies and processes. I loved how all the students came from different educational backgrounds. Every person in class brought their own unique perspective because they had different undergraduate experiences. I learned so much from the other students interacting with the material and bringing in insights from different backgrounds. My advice for future students is to embrace unique perspectives as an avenue to expand thinking and learning!
How has McIntire prepared you for professional success?
McIntire provided me with the practical skills to be able to do my job better. More importantly though, the program encouraged me to seek out diverse perspectives when solving problems. I believe being able to be a creative and strategic thinker sets you apart in the workplace, and McIntire expands students' abilities to do this. Thank you to McIntire for making me a more of a collaborative thinker!
What is your favorite Charlottesville activity?
Sitting on the polo fields at King Family Vineyards or eating Bodo's on the Lawn with friends.
What is your favorite place to eat in Charlottesville?
Feast! I used to go three days a week after class.
What do you do in your spare time?
I love planning fun dinners for my friends. In another life, I would be a high-end event planner!