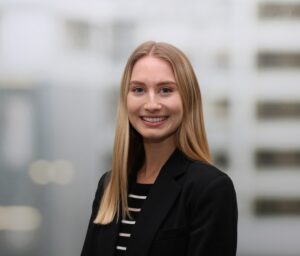 Logan Williams (M.S. in Accounting '19), Financial Reporting and Assurance Track
Undergrad: B.S. Accounting, College of Charleston
Current Role: EY, Assurance Staff (Charlotte, NC)
LinkedIn Profile
What was your most memorable class and why?
My most memorable classes were Accounting Policy with Professor Craig Lefanowicz and Financial Reporting with Professor Katie McDermott. Both professors were outstanding. I was able to conduct comfortable conversations with both of them; they encourage students to think beyond the technical knowledge as well.
Did you take advantage of CCS, and if so, how did they help you in the job search?
Yes, I went to a career fair event hosted by CCS two weeks after the semester started, and the event opened up so many options for me. CCS also looked over my resume and offered me some advice. They made it all so easy, especially related to networking. I would not have known how to get through recruiting on my own.
Have you been able to leverage your UVA degree or network on the job?
There are not many UVA alumni in my area, but I think having UVA on my resume is a great asset now and in the future. Everyone knows it is a good school, and the M.S. in Accounting Program has a good reputation.
What do you enjoy most about your job?
The people and the team experience. In audit, you are working with people all the time. I am inspired constantly by the work ethic and brains of those who work around me. I also get to work with a diverse group of people from all walks of life, and I love to meet people from all over the world.
What advice do you have for future students in the program?
Enjoy your time at UVA—it's going to go by like that! Also, meet with your professors, and go to their office hours. They are so knowledgeable, even if it's just life related. They are teachers who love what they do. Get to know your classmates on a deeper level. You will meet people who are important in your network and may become your lifelong friends. Lastly, try to study for the CPA exam if you have time. You don't have to complete all of the sections, but if you have time to knock out some before you start working, that's always a good thing.
How has McIntire prepared you for professional success?
I think the biggest thing is the push on soft skills, whether it's public speaking or business writing. Being able to speak and write professionally is huge, and the writing assignments we had were helpful in developing those skills.
What is your favorite Charlottesville activity?
I loved going to King Family Vineyard and Pippin Hill. I enjoy being in the mountains, but walking around Grounds is also my favorite. It's such a beautiful place.
What is your favorite place to eat in Charlottesville?
Bodo's Bagel is the classic. The Local is another one; it has really good pasta.
What do you do in your spare time?
I am a big reader—I do a lot of reading in my spare time. I love to exercise, do yoga, and spend time with friends. I also got into cooking recently.