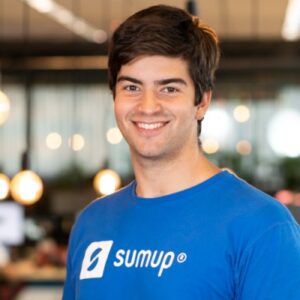 Jose Titonel (M.S. in Commerce '18), Finance Track
Undergrad: Economics and International Business, West Virginia Wesleyan University '17
Current Role: Product Manager, SumUp (São Paulo, Brazil)
What was your most memorable class and why?
My most memorable course was Professor Ira Harris' Global Strategy and Systems course. That course taught me the importance of asking the right questions.
Did you take advantage of Commerce Career Services? How did they help you in the job search?
CCS was a tremendous resource for my job search. Although the firm I ultimately joined did not recruit through CCS, I frequently worked with CCS on resume reviews, mock interviews, and connecting with alumni. They also helped develop my soft skills, such as self-presentation, and my job pitch.
How have you been able to leverage your UVA degree or network on the job?
I believe the McIntire brand and job fairs increased my chances of getting interviews with big firms. This benefit was especially helpful as an international student—the prestige and ranking of McIntire helped me get into the most prestigious job fair in Brazil. At this job fair, I was selected as one of 60 students who were able to pitch to some of the biggest tech firms in Brazil. This process is how I ultimately met and joined SumUp.
What do you enjoy most about your job?
I enjoy SumUp's work-life balance, trust in their junior employees, and propensity for social impact. Even as an entry-level analyst, I was able to meet with middle and executive management and was trusted with responsibilities I believe I wouldn't have otherwise. Even as a Product Manager, the CEO will occasionally contact me to get my insight and opinion on various strategic decisions. Also, when the Brazilian government issued COVID-19 relief to small businesses and families, many people were unable to receive it because of long lines at ATMs. My product team worked directly with the government to enable credit card readers to accept payments from "virtual debit cards," giving more people access to their relief funds.
What advice do you have for future students in the program?
Don't be afraid to ask questions, especially international students who may be hesitant. Also, prioritize the objectives that matter the most to you. For instance, if you're interested in investment banking, make sure your schedule, interviews, CCS events, and alumni outreach during recruiting season revolve around investment banking.
How has McIntire prepared you for professional success?
McIntire has developed my critical thinking skills and provided me a solid balance of hard and soft skills.
What's your favorite Charlottesville activity?
I loved trying new restaurants and breweries around the town. Also, taking frequent walks around Grounds made me feel grateful for being able to study in such an amazing place.
What's your favorite place to eat in Charlottesville?
Citizen Burger is by far the best restaurant in town. They have great food and many craft beers, and provide a great environment to network with graduate students outside the program.
What do you do in your spare time?
I enjoy watching and playing tennis and spending time with friends. I also have a habit of spending hours on YouTube, watching videos of new subjects that catch my interest.