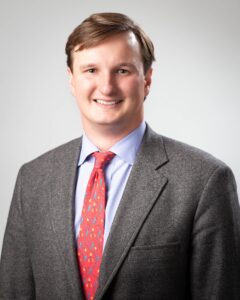 Johnny Bond
M.S. in Commerce 2017, Finance Track
Undergrad: B.A. in History, Williams College
Current role: Investment Banking Associate, Banks Street Partners, Atlanta, GA
Why did you choose the M.S. in Commerce Program?
I was a history major at Williams College. Williams did not offer finance or accounting courses, so I felt as if I was slightly behind the eight ball compared to some of my peers who had attended universities, like UVA, that offered undergraduate business programs. I am a believer in the liberal arts education, and my Williams degree is invaluable to me, but I still felt that I needed a formal business education in order to compete and succeed in an environment like an investment banking analyst program.
When I attended the M.S. in Commerce Program, I had my sights set on banking because I felt it was the best avenue to continue my education. I also thought the Program was the best springboard to the type of job that I planned on pursuing. I never considered any other one-year programs besides the M.S. in Commerce. When I applied, it was a top-ranked program in the country, and I now know why. The coursework and professors do a great job of preparing students for the challenges of the working world. The daily team interaction, core valuation and finance curriculum, and engagement with current events produce students that are ready to hit the ground running.
Since leaving McIntire, I have been involved in recruiting multiple years, and each year my teams are very impressed with the candidates that McIntire produces.
How would you define the value of the Program?
The Finance Track curriculum is relevant to everyday work. Valuation, accounting, and communication skills are critical for anyone pursuing a finance job out of school. Each student has to make a tough decision when determining whether to reinvest in themselves and attend another year of school. I believe it is an investment well worth making.
The faculty is engaging, and the relationships with peers and teachers last well beyond the one year on campus.
Who would you recommend this Program to? What advice would you give them?
I would recommend this Program to any liberal arts major pursuing a career in finance. It is extremely difficult to nail investment banking job interviews without a base knowledge of accounting, corporate finance, and valuation. The Program should embolden any interviewee and adds quite a few tools to your belt that few other candidates have. Rather than dreading technical questions during interviews, you will be prepared to knock them out of the park. This is a great opportunity for anyone who is intimidated to start working in a tough, quantitative heavy environment without the formal education that so many students with undergraduate business degrees have. I felt really prepared after leaving Charlottesville and heading into the working world.
My advice is to focus on soaking in each lesson. So much of the curriculum at McIntire is relevant to daily life after school, so take advantage of the professors and materials. Go grab drinks with your professors; they will enjoy it as much as you do! These are some of the brightest minds in the world, and for one year you have access to their thoughts.
What did you take away from your time at McIntire?
I had a fantastic experience at McIntire. The friendships I made will last a lifetime. It is unfortunate that we only had one year together in Charlottesville because there always seems to be something new to try, and we simply didn't have enough time to try it all. It is a special place and anyone who spends time there is lucky.