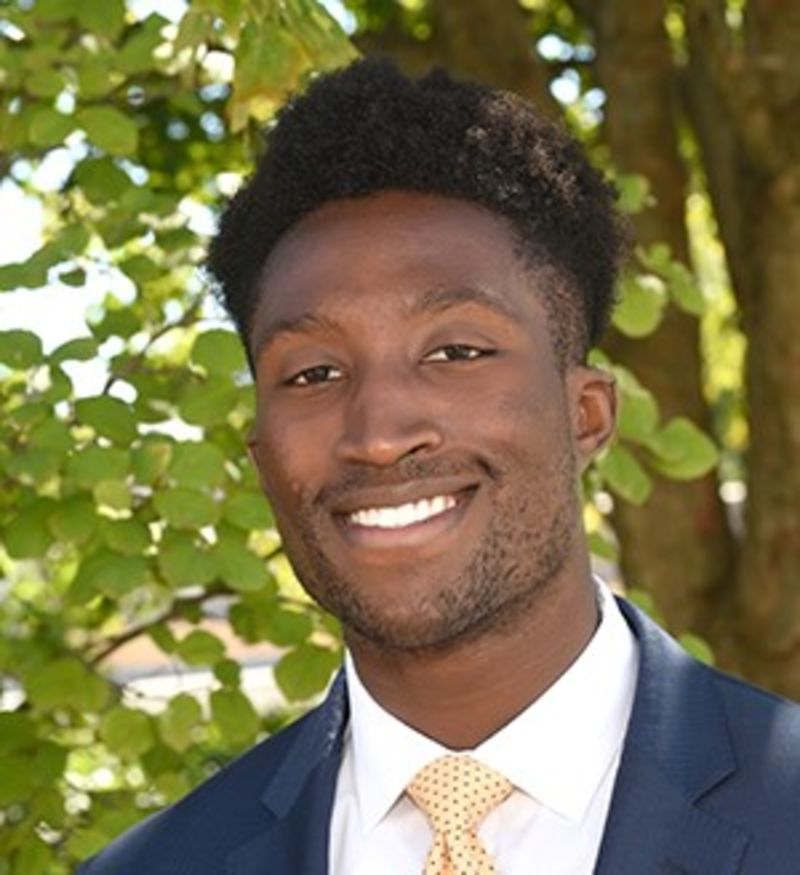 Obai Kamara
M.S. in Business Analytics 2022
"I was attracted to the [MSBA's] hybrid format in the DC area, which allowed me to continue working and apply the skills I'm learning while also engaging with my classmates in person on the weekends."
What's your professional/academic background?
I am currently a Technical Advisor at Augur Consulting, a small consulting firm in Crystal City that specializes in cost, schedule, and performance management services for federal clients. In my role as a Technical Advisor, I have two main functions. I support short-term client engagements that require a high level of expertise in any of our core competencies, and I develop internal products that improve the performance of our employees. I joined Augur after graduating from Davidson College with a B.S. in Physics.
Why did you decide to pursue an MSBA?
When I decided to pursue an MSBA, I was at a point in my career where I had a lot of experience doing data analysis, but very limited experience working with large datasets. A project that I was working on exposed the limitations of my skill set when working with big data and initiated my interest in building up a strong technical foundation. Additionally, I was seeking exposure to these skills in the context of business and wanted to expand on the management and communication skills necessary to facilitate data-driven impacts.
What led you to the UVA program?
I was interested in UVA for many reasons. First and foremost was the excellent teaching quality and case method approach to learning. I found that it is better to learn through real-world scenarios, and the cases have been an excellent way of thinking through all of the different considerations when solving a problem. Additionally, I was attracted to the hybrid format in the DC area, which allowed me to continue working and apply the skills I'm learning while also engaging with my classmates in person on the weekends.
What's your favorite memory from the program?
There are many to choose from, but my favorite class so far has been Data Analytics I with Professor Michael Albert. This class had a weekly Kaggle competition that challenged us to think critically about the models we were learning and forced us to communicate our insights in a way that displayed business impact. I learned very quickly how bright and driven my classmates are!
What has been the impact of your experience?
My experience has been outstanding. Aside from the technical skills we have developed, I have enjoyed getting to learn skills from my talented classmates. Since students have such diverse educational and professional backgrounds, I have been exposed to many unique perspectives that have shaped how I approach problems in my everyday work.
What's your best piece of advice for prospective students?
Reach out to alumni or current students and attend the events run through the MSBA program if you have the opportunity. It is helpful to understand what makes this program unique and how those features will benefit you in your career.
What are some of the skills you've learned in the program?
There are too many to count, but the technical skills I have enjoyed learning are cluster analysis, natural language processing, and decision trees. In terms of business skills, I have enjoyed learning methods for approaching strategic analysis and implementing frameworks for data-driven product development.