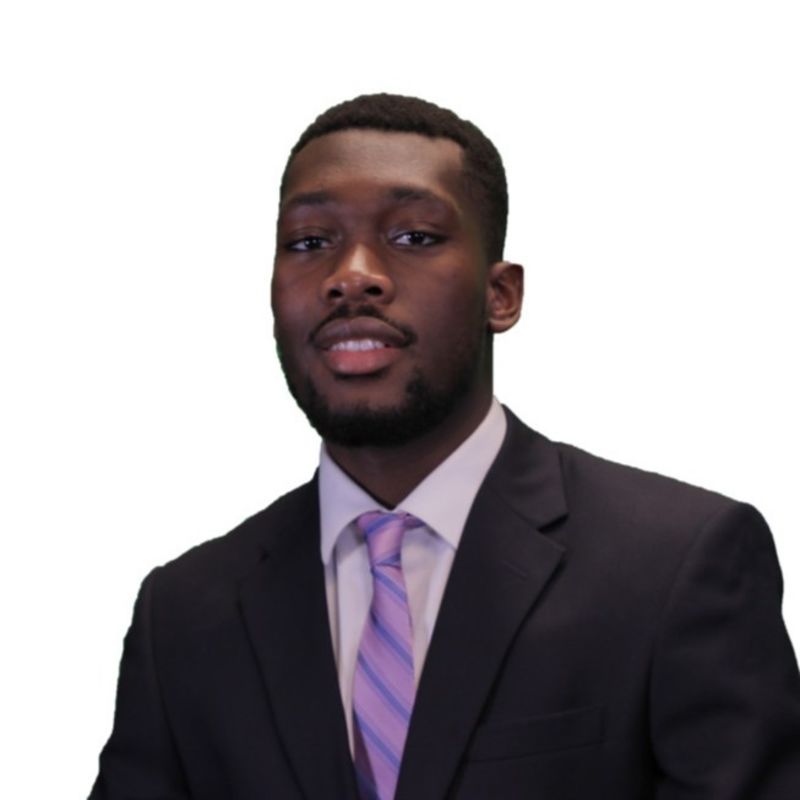 Nathaniel Odusote
M.S. in Business Analytics 2022
"This experience has already paid dividends in my professional life, in terms of some of the techniques that I have been able to execute in my everyday work."
What's your professional/academic background?
Since graduating from the University of Virginia in 2018, I've worked in sales operations, business intelligence, and now I work in data analytics specifically pertaining to corporate strategy.
Why did you decide to pursue an MSBA?
I decided to pursue an MSBA because I was looking for a master's degree that would give me the opportunity to add on to and enhance the technical proficiencies I already possess. The MSBA stood out to me, as opposed to a master's in Data Science, because I was especially interested in learning how to implement these technical skills in the business world.
What led you to the UVA program?
After deciding that I had accrued enough professional experience to attend graduate school, I started researching schools that were in the area and that would also allow me to continue my professional career simultaneously. That's where I saw UVA had a program that fit perfectly with what I was looking for. While attending UVA as an undergraduate student, I heard the term "double Hoo" countless times, and it became a dream of mine to receive my graduate degree from UVA and become a double Hoo. On top of that, Darden and McIntire are world-renowned business schools, and I knew that I would receive the best education possible from them.
What's your favorite memory from the program?
My favorite class so far has been Michael Albert's Data Analytics class. This class encapsulated everything I was looking for when I decided to take on a master's in Business Analytics. I really enjoyed learning the data science process through awesome cases like the Oakland Athletics Moneyball case. We learned how to conduct exploratory analysis on data through Tableau, use the exploratory analysis to engineer features for predictive models, create and tune predictive models, and ultimately implement the models in business cases. This class was very thought provoking, and there was never a dull moment in any of our class discussions.
What has been the impact of your experience?
This experience has already paid dividends in my professional life, in terms of some of the techniques that I have been able to execute in my everyday work. This experience has also enabled me to break down and attack problems in different ways. I believe I have grown substantially in many ways as a result of this program and that is a credit to my professors and classmates. I have learned something from every individual in the cohort, and I have also made lifelong friendships. The experience has also unlocked another level of gratitude for the people at home, who have made several personal sacrifices so I can enjoy the wonderful benefits of being a Darden/McIntire student.
What's your best piece of advice for prospective students?
I would advise prospective students to really soak up the experience and engage in the discussions. The Darden method of teaching is incredibly interactive. It relies on everyone being ready and open to share their experiences and distinct thought processes. I have learned so much from my classmates sharing how they have solved problems in their professional careers and that would not have been possible if they did not engage in the discussions.
What are some of the skills you've learned in the program?
This program has made me extremely confident in my Tableau abilities. Creating dashboards has enabled me to optimize some processes in my job. I have also learned how to manipulate data frames using Python Pandas and run statistical analyses on those data frames. Those are the two skills I have been able to utilize immediately in my professional career, and I hope to start utilizing the machine learning models very soon.
Current Job

Bloomberg Industry Group, Business Data Analyst (Washington DC-Baltimore Area)
Connect on LinkedIn