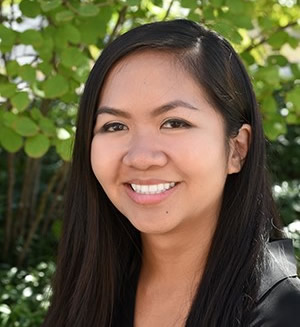 Celine Carranza
M.S. in Business Analytics 2022
"I went down the list of top business schools and tried to find a program that fit all of my needs. When I came across UVA's MSBA program, it seemed like the perfect fit for me."
What's your professional/academic background?
Currently I work in energy risk management in Phoenix, AZ. I have worked at Arizona Public Service for seven years, coming straight out of college into a Finance & Accounting rotational program at my company. I graduated from the University of Arizona with a B.S. in Finance and a B.A. in Political Science.
Why did you decide to pursue an MSBA?
I had reached a point in my career where I wanted to branch out and elevate my skills and gain new skills. I had always wanted to go to grad school, and the MSBA degree seemed like the right choice given my skill set and the data driven world we live in.
What led you to the UVA program?
I wanted to be in a flexible program that would allow me to keep my current job. It was also important for me to be able to meet my cohort in person, and I did not mind having to travel for school. I had also heard great things about Darden from family and friends. I went down the list of top business schools and tried to find a program that fit all of my needs. When I came across UVA's MSBA program, it seemed like the perfect fit for me.
What's your favorite memory from the program?
My favorite memory so far has been the first residency in Charlottesville. From dinner at the apple cider brewery, to going to the UVA football game, to the scavenger hunt across campus, this residency was filled with amazing memories.
What has been the impact of your experience?
The program has challenged me in many ways, but it has all been worth it, as I have gained many new skills, experiences, and lifelong friends. I have a whole network in the DC area and East Coast that I would not have met if I hadn't chosen this program.
What's your best piece of advice for prospective students?
Embrace the process! Some days are good, some days are bad, but there will always be progress made and there will always be day-to-day growth.
What are some of the skills you've learned in the program?
I feel much more confident giving presentations and effectively communicating my ideas and recommendations to all types of audiences. Through all of our mod projects, I've become a better team player and have become more adaptable working with different people. I know how to employ various types of analyses, I can use statistical software like SPSS, and I can create data visualizations in Tableau. I've been exposed to several types of codes and softwares such as Python, R, SQL, Crystal Ball, Amos, Sawtooth, and Databricks, to name a few.
Current Job

Arizona Public Service, Senior Risk Analyst (Greater Phoenix Area)
Connect on LinkedIn