According to recent research from the Graduate Management Admission Council (GMAC), applications for business master's programs are up 5.4% every year.
Although the traditional MBA still stands strong, specialized business master's degrees are making waves in the world of business education. Industry and businesses are in desperate need of those with specialist skill sets and a comprehensive understanding of specific areas of business, such as finance and accounting, marketing, and commerce.
The M.S. in Commerce Program at the University of Virginia's McIntire School of Commerce is specifically designed for recent graduates in liberal arts or STEM majors interested in boosting their career advantage early with business. It offers an integrated curriculum, exclusive specializations, a global immersion experience, as well as a hands-on consulting project. You also don't need any prior work experience to study it either–unlike the MBA, for which you generally need, on average, three years of professional work experience.
We spoke with two M.S. in Commerce graduates to find out more about their academic experience and how earning a specialized master's has helped get them to where they are today.
"The Global Immersion Experience was a great way to see what we had learned in action around the globe at real businesses."
Haley Hickey graduated from the M.S. in Commerce Program in 2018, specializing in its Marketing & Management Track. She now works in an HR consulting role at Capital One in its rotation program, supporting the company's U.S. Card Business–and she has the M.S. in Commerce Program to thank for it.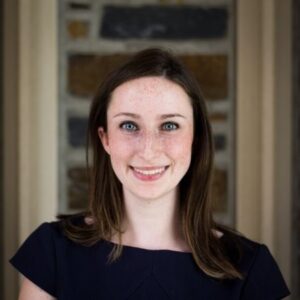 "Well, quite literally, I found Capital One through a visit that my M.S. in Commerce class took to Capital One's West Creek Campus, and decided to apply after that experience. The program's classes and group work in the program helped me develop the communication and problem-solving skills that help me every day in my role."
With a good idea in mind of what type of roles she wanted to pursue, Haley didn't want to hit the pause button on her career to go back and study an MBA.
"I had a hunch that if I started to work, I wouldn't want to stop and go back for an MBA. I also thought that a business foundation would help me in the roles I wanted to pursue, so the M.S. in Commerce was the perfect match. One year, a ton of knowledge, learning, and group work, and I'd be able to jump right into work afterwards."
But that's not to say that it's all hard work and no play…
"I so enjoyed my time in Charlottesville! It was certainly a busy year—between the group work, classes, and fun activities in Charlottesville, the year passed incredibly quickly," said Haley.
"The Global Immersion Experience was a great way to pull the year together and see what we had learned in action around the globe at real businesses."
"It provided me with the toolkit I needed to hit the ground running on the job."
2019 M.S. in Commerce graduate Roy Masha is now an Associate Consultant at Bain & Company in Washington, D.C., and talks at length about how the program equipped him with the skills necessary "to hit the ground running on the job."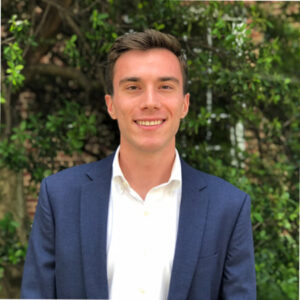 "My responsibilities are quite dependent on each case, but often include conducting research, building models to push answers forward, supporting client meetings, and fostering an engaging and fun team environment.
"[The program] provided me with the toolkit I needed to hit the ground running on the job. While a lot of my professional development at Bain takes place through my casework, I often find that the business problems we were faced with in the classroom have broad connections to my work.
"It's quite valuable to see those connections immediately and start formulating solutions to the problems I am faced with on client engagements," explained Roy.
When it came to deciding which postgraduate degree program was right for him, there was a lot to consider. Roy wanted to find a degree that would allow him to "bridge the gap between my theoretical, liberal arts economics background and an application-based business education."
Fortunately, this was something the M.S. in Commerce was able to offer–and more.
"It also provided an opportunity to learn the fundamentals of business through a global lens," said Roy.
Looking back on his experience, it's no surprise that Roy is full of praise for the program, considering all it has offered him.
"The program allowed me to work collaboratively on a variety of challenging projects and think critically and globally about business problems. During this time, I was able to meet ambitious and smart peers whom I quickly formed close connections with and who became some of the closest friends I have to this day.
"In addition, having the opportunity to travel across the Greater China region for the Global Immersion Experience with this same group of friends and to hear from diverse, successful business leaders who operate within the global landscape was truly a once-in-a-lifetime opportunity.
"I often find myself looking back on the memories from my time in Charlottesville and reflecting on the amazing experiences I had!" said Roy.