According to an article in Forbes, "the vast majority of collegiate athletes will leave their university programs in search of traditional jobs and despite their exceptional skills—discipline, work ethic, coachability … among them—will be less prepared than their collegiate counterparts at getting placed into ideal and high-paying jobs." Yet, student athletes typically excel in business given the right skill sets and practical expertise.
The M.S. in Commerce can help student-athletes bridge the transferable skills they acquired as an athlete with the skills needed in the business world. We caught up with a few of our classmates who were athletes as an undergrad for their take on the Program.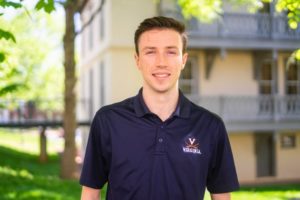 Henry Paul
M.S. in Commerce 2019, Business Analytics Track
Undergrad: B.S. in Civil Engineering 2018, Lehigh University
Sport: Cross-Country and Track & Field
Q: What did you learn from being a student athlete in undergrad that you carried with you into the M.S. in Commerce?
I definitely had a tough start in undergrad, juggling academic and athletic commitments. It got easier over the years though, and by the end of my career, I contributed to the team, learned a lot about teamwork, worked through adversity, and prioritized my responsibilities. These are all skills that have helped me be successful in the M.S. in Commerce Program.
Q: What advice would you give to future prospective students who are athletes?
For any student athlete looking at the Program, I would recommend approaching graduate business school as a change in lifestyles. What I miss the most from undergrad is my team and competing, but I actually have found both here at UVA. I have a great team I work with on projects and there is friendly competition throughout the year.
Q: What do you feel is the value of pursuing an M.S. in Commerce at McIntire?
For me, the real value of the Program boils down to three points: First, it has taught me a ton about the business world both in the U.S. and globally. Second, it has helped me develop a more professional mindset. Finally, it has helped me build confidence when tackling business problems. To sum it up, the value is the holistic impact of the Program combined with its world-class academics.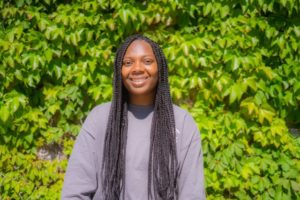 Kaysha Forbes
M.S. in Commerce 2019, Business Analytics Track
Undergrad: B.A. in Economics and Statistics 2018, University of Virginia
Sport: Club Tennis Travel Team
Q: What was your experience with tennis and academics in undergrad?
As a first-year (freshman) at UVA, I was always running between dorms, classes, and the tennis court. I always had something going on, whether it was coaching, practicing for club, or preparing for a tournament. Balancing my schedule was an important skill I had to learn right away. I learned how to be proactive with my schedule, especially when it came to communicating with the other people I worked with about what was going on any given week.
Q: Why did you pursue an M.S. in Commerce; what value has it added for you?
I chose the M.S. in Commerce because I wanted to improve my job prospects, gain technical skills, and learn about the business environment. I think the Program is worthwhile because we're able to engage in a variety of real-world experiences—like company visits and case studies, or consulting projects involving real businesses with real business problems. I also like that we can focus on building skills that translate to many different fields.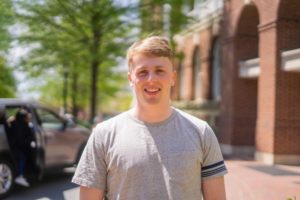 Charlie Thompson
M.S. in Commerce 2019, Finance Track
Undergrad: B.A. in Financial Mathematics and Economics 2018, University of Virginia
Sport: Men's Rowing
Q: How do you balance being a student-athlete with grad school and the job search?
Balancing everything hasn't been too difficult. I think a lot about how I am going to plan my day at least 24 hours in advance and figure out what needs the most attention. Time management requires looking and thinking ahead, but mostly you just have to be comfortable being busy. I have a lot of help from family, friends, and Commerce Career Services, but I also rely on my years of experience balancing rowing and school.
It's easy to feel overloaded when work piles up and you have an exam, project, interview, and race in one week. You really just need to take a deep breath, maybe meditate or do something calming. Most people can handle more than they think they can, and it's been cool for me to test my limits.
Q: Do you have any advice for students coming into the Program who might be trying to balance athletics and school?
I recommend acknowledging that to do everything you want is sometimes a struggle, but that's okay. Find something that will help you relax when things go sideways. Another piece of advice is to actually use a calendar and schedule everything in advance. Ultimately, though, you should push yourself to do more than you think you can, and the M.S. in Commerce Program is a perfect testing ground because it's so rigorous and intense. You might surprise yourself. If I can find a way to do it, anyone can.
Q: Why did you decide to come to McIntire? What has the ROI been?
I chose the M.S. in Commerce because I knew the McIntire School's reputation and ability to prepare students for careers in the business world. I could row for another year and at the same time get the hard financial skills that I needed going forward. It was a no brainer when looking at graduate business programs. McIntire was the place I wanted to be, and it hasn't disappointed. I have gained skills I needed while being able to continue my college athletic career. It has offered me the best of both worlds.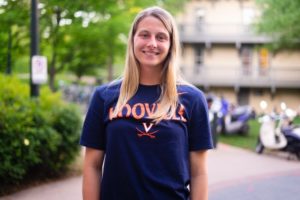 Ally Frei
M.S. in Commerce 2019, Marketing & Management Track
Undergrad: B.A. in Economics and Communications 2018, Boston College
Sport: Softball
Q: Are there any similarities between athletics and the M.S. in Commerce program? What is the value of the Program for you?
I think they are very similar because both attract people who are driven, while creating a culture where everyone strives to do their best every day. Athletics and the M.S. in Commerce are both very team-oriented, and in order to be successful you need to be able to work well in a group. I definitely learned how to be a good teammate as an athlete, but the Program has taught me how to bring those skills into my education and the business world.
Q: How do you balance you athletic and academic commitments here at McIntire?
Time management is all about planning ahead and communicating with group members in advance! I've been lucky to have teammates (athletic and academic) and coaches who have been very understanding of my busy schedule. My advice to anyone thinking of competing while pursuing graduate business school would be to take advantage of every free moment you have to get work done. An hour of homework here and there makes a huge difference when trying to stay on top of work and being well rested for practice or games.
*Please note the Program may not be a fit for everyone wishing to continue playing at the D1 level due to scheduling conflicts.