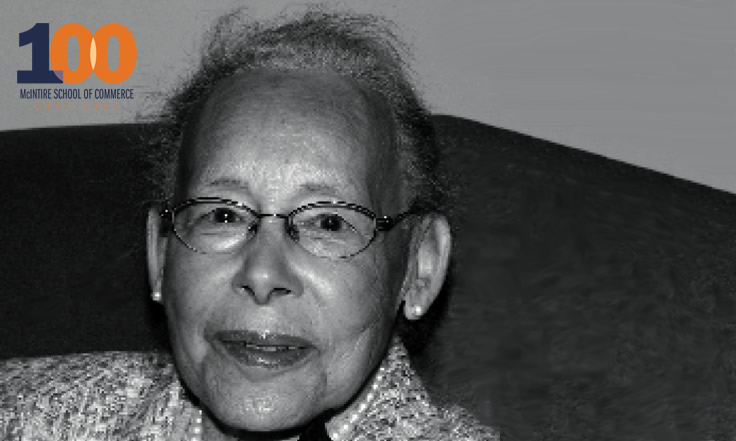 In honor of both Black History Month and the Commerce School Centennial, we take a moment to look back on the contributions of an important faculty member and trailblazing member of the McIntire community, Professor Charlotte H. Scott.
Born in Yonkers, NY, as Charlotte Anna Hanley in 1925, the Barnard College graduate married Nathan A. Scott Jr. in 1946. Before arriving on Grounds, she lived in Washington, D.C., and then Chicago, where she was employed as an Economist at the Federal Reserve Bank of Chicago.
Scott would gain a great deal of experience during that stretch of her life, working at the Federal Reserve Bank for 20 years. During that time, she earned her MBA degree from the School of Business of the University of Chicago in 1964. In 1971, she assumed the role of Assistant Vice President—the first African American woman to be appointed to the position at the bank. She held the role until 1976, when she and her husband accepted faculty appointments at UVA.
Both she and Nathan were the first African Americans at the University to be appointed tenured faculty—she as Professor of Business Administration and Commerce and Senior Fellow, Tayloe Murphy Institute, Darden School of Business; her spouse, a Priest of the Episcopal Church, served as Commonwealth Professor of Religious Studies and English.
Later in her career, starting in 1986, Scott expanded her role, working for the School of Education as University Professor of Commerce and Education. She held that position until 1998.
Active within the Charlottesville community, Scott was an advocate for women and education. She was part of the Charlottesville Advisory Board of NationsBank of Virginia from 1977 until 1983, as well as a member of the Consumer Advisory Council of the Board of Governors of the Federal Reserve System between 1980 and 1982. Between 1982 through 1985, she was a part of the Commission on the Status of Women for the Commonwealth of Virginia.
From 1993 until 2004, she was on the Governing Board of the Charlottesville Area Community Foundation, as well as on the Board of Directors of the Charlottesville Community Scholarship program.
She was UVA Professor Emerita of Commerce and Education when she died in 2010 in Charlottesville at age 84.
As the first Black woman to teach at McIntire, Scott made essential contributions in preparing business leaders while advancing the School and its mission, creating a positive impact that lasted for decades during her tenure and with alumni for years afterward. We recognize her longstanding dedication to her profession and commitment to generations of Commerce and Education students.